A youthful Golden Jaguars unit kicked off their four-game Caribbean tour on a losing note going under 1-2 to a Tobago All-Star XI at the Dwight Yorke Stadium on Valentine's (Tuesday) evening.
After 10 minutes Guyana were down 2-0 after two defensive errors by Kris Comacho resulted in the Tobago team netting twice, much to the delight of the Tobago crowd.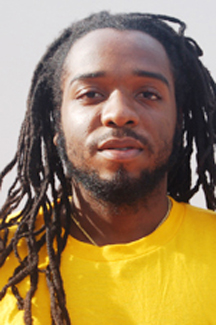 Alpha United striker Anthony "Awo" Abrams pulled one back for Guyana in the 23rd minute but, at the interval, Tobago led 2-1 and that's how the score remained until the final whistle.
In assessing the performance of the experimental side, in what is the first game of his "two-tier" approach towards the future development of the Golden Jaguars team ahead of the World Cup qualifiers in June, Head Coach of the Guyana National Football Team Jamaal Shabazz was frank in stating that the local players needed to lift their game.
"The local Guyana-based players must get fitter if they are to stand any chance of playing in the qualifiers," says Shabazz.
Konata Manning, who plays for Pele FC – the defeated finalist in the 2011/12 Kashif and Shanghai tournament – and Trinidad side Neal and Massy Caledonia AIA – was one player whose performance Shabazz acknowledged.
"Nata was easily our best player in the game but even his fitness is far from what is needed for the qualifiers," stated Shabazz.
Other than Manning, Shabazz pointed to several positive performances coming out of the match and singled out teenagers Colin Nelson, Trayon Bobb and Fruta Conquerors' Pernel Schultz as "giving a very good account of themselves."
Focusing on today's game against the Trinidad and Tobago (T&T) U-23 Olympic team, Shabazz said: "This will be an even greater test for the local-based players because the T&T U-23's are a fit, talented and very organized bunch.
"The only way these youngsters can develop is by playing in these matches and learning from the experience," he reasoned.
The Guyana versus T&T game kicks off at 6pm at the Dwight Yorke Stadium. Several of the T&T-based Guyana players are expected to be on hand to watch the match, including Charles Pollard and Kayode Mckinnon.
Around the Web