BRIDGETOWN, Barbados,  CMC – Positive half-centuries from Raymon Reifer and Chadwick Walton propped up Combined Campuses and Colleges and gave them a fighting chance, heading into the final day of their third round clash with Guyana here yesterday.
Reifer stroked an accomplished 89 while Walton added an unbeaten 75, to ensure CCC batted the entire third day of their Regional Four-Day contest at Warner Park to reach 274 for eight in their second innings, 148 runs ahead.
Seamer Chris Barnwell bowled outstandingly for Guyana to snare five for 52, a spell that left the CCC struggling at 118 for five after lunch.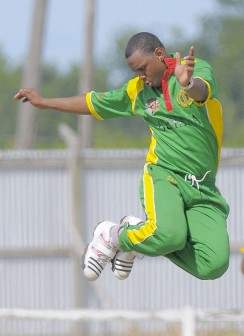 However, Reifer and Walton combined in a superb 115-run partnership for the sixth wicket to steer their side out of trouble.
The 20-year-old right-handed Reifer faced 121 balls in just over 2-1/2 hours at the crease and stroked six fours and a six while Walton has so far struck seven fours and a six in an innings lasting 153 balls and 203 minutes. Resuming the day on 16 for one and still 110 runs behind, CCC suffered an early setback when Kyle Corbin played back to one from Barnwell that kept low, and was lbw for seven with the score on 29.
Opener Yannick Ottley and Nkrumah Bonner
steadied the innings with a 33-run, third wicket stand, as CCC fought back in the morning session.
Ottley made 31 from 116 balls while Bonner scored 14 in a 50-minute stay before an error in judgment saw him offer no stroke to Barnwell and falling lbw.
Reifer joined Ottley to add a further 29 for the fourth wicket but two wickets fell quickly to hand Guyana the advantage.  Ottley gloved a lifting delivery from fast bowler Brandon Bess through to wicketkeeper Derwin Christian while veteran Floyd Reifer's poor run continued when he popped a catch to forward short-leg off captain and left-arm spinner Veerasammy Permaul. However, Raymon Reifer and Walton then hunkered down, forcing Permaul to wring the changes as he tried eight bowlers. With a century in sight, Reifer perished when he was undone by a slower ball and punched a return catch to Barnwell.
CCC lost three quick wickets for 20 runs but Walton held firm and partnered by the stubborn Ryan Austin who has faced 35 balls without scoring, saw his side safely to the close.
Scoreboard
CCC 1st Innings194
GUYANA 1st Innings 320
CCC 2nd Innings
(overnight 16 for one)
Y Ottley c wkp Christian b Bess                                            31
*R Currency c wkp Christian b Barnwell                              1
K Corbin lbw b Barnwell                                                              7
N Bonner lbw b Barnwell                                                           14
R Reifer c and b Barnwell                                                           89
F Reifer c Fudadin b Permaul                                                   12
+C Walton not out                                                                          75
J Holder c wkp Christian b Barnwell                                         5
K McClean c Bess b Fudadin                                                          4
R Austin not out                                                                                 0
Extras (b9, lb5, w11, nb11)                                                             36
TOTAL (8 wkts, 98 overs)                                                               274
Fall of wicket: 1-12, 2-29, 3-62, 4-91, 5-118, 6-233, 7-248, 8-253.
Bowling: Bess 15-1-58-1, Beaton 13-5-18-0, Barnwell 22-4-62-5, Permaul 26-5-60-1, Deonarine 13-2-41-0, R Crandon 3-1-6-0, Johnson 1-0-6-0, Fudadin 5-1-9-1.
Position: CCC lead by 148 runs with two wickets intact.
Toss: CCC.
Umpires: N. Duguid, M. Gough.
Around the Web