Youth sprint champion Jevina Sampson had an explosive start to her 2012 season yesterday claiming a sprint double at the Athletics Association of Guyana's (AAG) first Developmental Meet held at the Police Sports Club ground, Eve Leary.
Sampson exploded out of the blocks in the under-18 100 metres event clocking 12.3s and leaving her opponents in her wake.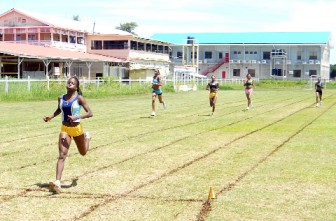 Second was Sampson's clubmate and training partner Shaquan Daniels with a 12.9s performance.
Returning some 20 minutes after her 100 metres performance, the 13-year-old embarrassed the 400 metres field demolishing them by approximately 25 metres to win in an impressive time of 58.1s. Natreena Hooper 1:00.7s and Alita Moore 1:01.7s had to settle for a distant second and third respectively.
Olympic hopeful and Guyana's 1500 metres record holder, Cleveland Forde, looked to be in form as he ran the men's 1500 metres tactically before sprinting away with the race in the final 150 metres to clock a time of 4:10.6s. His closest opponent, Tyshon Bentick finished with a time of 4:24.1s while Jamal Chisolm finished third in 4:36.5s.
Junior sprint champion Chavez Ageday also had a successful opening meet as he recorded a sprint double in the boy's under-20 category in the 100 and 200 metres.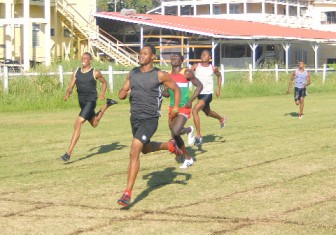 Ageday used his drive phase well in the first 30 metres of the 100 metres which saw him outlasting a surging Stephan James to win the event in 10.8s while James finished in 11.00s.
The sprint champion later claimed the under-20 200 metres in fine fashion turning in a 22.0s performance.
Meanwhile, James an unfamiliar face in the 100 metres, returned from his second place finish against his friendly rival Ageday to take the men's 400 metres in a blazing time of 48.8s easily defeating his combatants. Shawn Semple 51.2s and Alton Seaforth 51.5s finished in second and third respectively.
The 400 metres field was missing Guyana's 400 metres Olympic qualifier in Winston George who is currently in Jamaica on a training programme for the London Olympic Games.
A heated battle took place in the female sprints as School's Nationals under-20 champion Letitia Myles ran away with the Women's Open 100 metres race in 12.2s to defeat runner-up female athlete of the year Neisa Allen who finished second with a time of 12.6s.
Allen returned in the Women's 200 metres to stop Myles from claiming a sprint double as she won the event in 25.5s while Myles finished second in 26.2s.
Turning to the male open sprints, Patrick King representing the Guyana Defence Force (GDF) in the absence of the organization's sprinting duo of Rupert Perry and Quinse Clarke who are in Jamaica on a sprinting stint, clocked a slow 11.00s to take the Men's Open 100 metres. Winston Caesar was second in 11.2s.
Another GDF athlete came to the fore in the Men's Open 200 metres in Akeem Stewart who won the event in 22.1s while King was second in 22.1s.
Two-time 1500 metres gold medallist Jevina Straker also had a good outing in the Women's 800 metres under-20 event clocking 2:24.9s to finish ahead of Adama Roberts who turned in a time of 2:28.6s.
Cleveland Thomas also had a good 800 metres outing as he finished ahead of the field in a time of 1:58.4s.
In relay action Police 'A' was in control of the 4×100 metres race before Keith Roberts, who thought he was well ahead of the field on the last leg, looked to see where his opponents were only to have King of GDF 'A' run past him to win the event in 43.7s while Police 'A' clocked 44.0s for second.
On the distaff side Running Brave simple dominated the field despite bad baton passing to win in a time of 50.2s while Police 'A' finished in a time of 51.1s.
Around the Web