Linden's Amelia's Ward Football Club sent Buxton Stars packing after dropping three goals on the East Coast natives when the Guyana Football Federation (GFF) Super League tournament continued last Sunday in Linden at the Mackenzie Sports Club ground.
Despite a late start and the limited supporters in the ground, the match got underway with some scrappy play as both teams constantly exchanged possession with bad passes, especially long lobs.
From the blast of the first whistle Amelia's Ward created several opportunities only to have them squandered at the end by bad play, especially around the 18-yard box.
Buxton did, however, mange to create their own number of opportunities in the early going off counter attacks which often ended with the final shot either being directed straight at the Amelia's goalkeeper or way past the goal.
The first major opportunity came for Amelia's Ward in the 36th minute via a free kick and, as Oscar Adams lined his shot, screams erupted from the limited number of fans anticipating a goal. The shot eventually whizzed past Buxton's `keeper into the back of the right corner of the net, sending the players in red and black into celebration mode.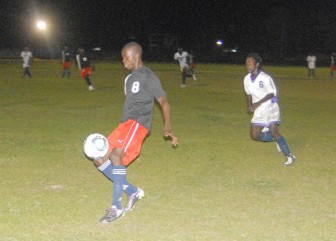 With the score at 1-0 in favour of Amelia's Ward, the remainder of the first half played out with no other major run by either of the teams.
After the break both teams came out searching for the goal which would either turn the match around or seal the deal and in the 53rd minute the Linden crowd which had increased slightly went into a frenzy with a strike from the right boot of Darwin Luke of Amelia's Ward which also  seemingly dampened the spirits of the Buxtonians as the score line increased to 2-0 in favour of the home side.
Clearly frustrated by their position in the game, the Buxton Stars players seemed defeated in spirit but still showed moments of life as they tried to get back in the game.
However, the final blow was finally dealt by Amelia's Ward as Paul Trotman blasted in the sealer which ensured that there would be no comeback by Buxton in the 84th minute of the error-filled contest.
Around the Web