James Krakowsky was the winner of the Danny's Auto Sales sponsored scrabble competition organised by the Guyana Association of Scrabble Players (GASP) on Sunday at the Malteenoes Cricket Club, Thomas Lands.
Krakowsky won the maximum six games with a spread of 800 after defeating Delon Moffat, Ulric Harris, Wakefield Skeet, Ewart Adams, Abigail McDonald and Moen Gafoor.
Abigail McDonald, who after four wins amassed a spread of 556 was second.
McDonald lost to Ewart Adams and Krakowsky.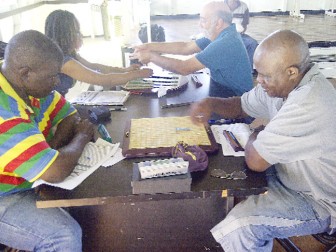 Moen Gafoor, with a spread of 246 and four wins, was third.
A special prize was awarded to Grace Hercules for her performance. She ended with a spread of 146 after four games.
Meanwhile, McDonald said that she was pleased with Sunday's turnout given that the association was going through a rebuilding process. She said that over the past years the association had witnessed a decrease in its membership but said they are working on changing that.
Krakowsky, she said, was one of the players who had been out of competition for the last three years and that she was happy with his return.