The Guyana national rugby team has one of its  toughest tasks ahead as they prepare for the HSBC Sevens World Series in Hong Kong from March 23-25.
After defending their regional title successfully last year and representing themselves well in Las Vegas earlier this month, the national side has gained recognition with their invitation to participate on the highest stage that the Sevens version of rugby has to offer, according to Kit Nascimento, president of the Guyana Rugby Football Union (GRFU).
The national side is seeded low in  pool 'F' with Portugal, Russia and Japan which Nascimento thinks will be a tough task for the national side to come out on top so early in the tournament.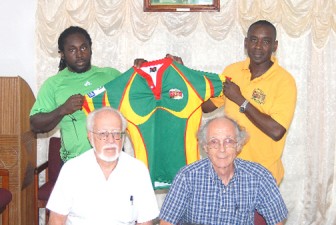 "To begin with we have a hard task ahead of us – we would have been better off in any of the other two low seeding groups but it's going to be hard for us to start with," Nascimento indicated at the press conference held at the head office of the Guyana Olympic Association (GOA) yesterday.
The team will focus on its fitness level in order to excel at the Hong Kong-based event come next month according to Seven's director, Mike McCormack who was also present at the press conference yesterday.
"We will focus on our fitness because we realize that on an international level we don't win games we are supposed to and that's because of fitness and our inability to close out these games," McCormack stated.
The team will also gain some assistance from California-based expert in Conrad Arjune who helped analyze the team's performances in Los Vegas.
Meanwhile, Nascimento indicated that the team is still not fully financed with a major sponsor yet to be named but because of the growing popularity of the national rugby team it has gained free kits from Xtreme Rugby, a Canada-based company that has provided their full kits for free which they wore for the first time in Sin City.
The team is also expected to have a week of training with the United States national team just before the start of the tournament in March.
The full squad has not yet been named to represent Guyana and according to Nascimento international players are yet to be decided on while no local player from the Las Vegas trip is guaranteed a spot.
Around the Web