LONDON,  (Reuters) – Danish Kaneria will be called before the Pakistan Cricket Board's (PCB) integrity committee to explain his involvement in a spot-fixing probe that saw former Essex team mate Mervyn Westfield jailed.
A joint statement yesterday from the International Cricket Council (ICC), the England and Wales Cricket Board (ECB) and the PCB denied the former Pakistan leg-spinner had been cleared to play despite his claims to the contrary.
"Following reports in the media in which Danish Kaneria claims to have been issued with a clearance certificate, the ICC, the ECB and the PCB can categorically deny such a clearance certificate was ever issued," read the statement.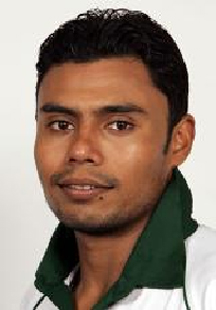 "The PCB stated that, following the Mervyn Westfield judgment, Danish Kaneria will again be called to appear before the integrity committee to explain his position.
"The PCB also confirmed the Kaneria clearance matter is pending before the integrity committee of the PCB where in the last meeting he was directed to provide copies of the tapes of his Essex police interview," added the statement.
Kaneria was named in a London court last week as a go-between in the scandal that resulted in a four-month prison sentence for former English county player Westfield.
The Pakistani, who took 261 wickets in 61 tests, was arrested in 2010 along with Westfield on suspicion of spot-fixing during an Essex match against Durham in 2009 before being released without charge.
Kaneria's Essex contract was terminated in 2010 and he has not played for Pakistan since the scandal came to light, appearing several times before the board's integrity committee.
A London court heard last week that Kaneria told Westfield a friend would pay him to co-operate in a spot-fixing scam — an allegation denied by the player.
"Danish is innocent according to the Essex police after complete investigations," his brother Vicky told Reuters last week.
"Now this trial is over we will submit all documents and evidence asked for by the PCB to get his name cleared."
Kaneria has taken the PCB to the Sindh high court, arguing he should be eligible for selection by his country.
Around the Web