(Reuters) – India once again wilted against quality pace bowling as Sri Lanka defeated them by 51 runs in the eighth match of the one-day Tri-series at the Gabba in Brisbane yesterday.
India, who were shot out for 178 by the Australian pace battery during a 110-run loss at the same venue on Sunday, were all out for 238 in 45.1 overs against Sri Lanka, chasing 290 for victory.
Nuwan Kulasekara picked up three wickets, including Gautam Gambhir (29) and Sachin Tendulkar (22), while Thisara Perera cleaned up at the end with four wickets. Lasith Malinga took two while the remaining wicket went to paceman Farveez Maharoof.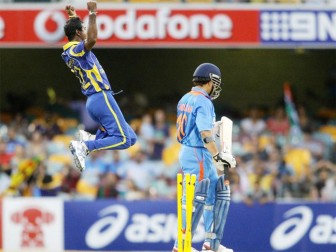 India, the 50-over world champions, got off to a dreadful start, losing their top three batsmen with just 54 on the board.
Virender Sehwag, who led India in the absence of the banned Mahendra Singh Dhoni, was caught at third man off the second delivery of the innings while Tendulkar's wait for his 100th ton was prolonged after he played Kulasekara on to his stumps.
India tried to rebuild with a 92-run stand for the fourth wicket between Virat Kohli (66), who was dropped twice by Dinesh Chandimal, and Suresh Raina (32) but it was never enough.
Irfan Pathan (47) played an entertaining late cameo to deny Sri Lanka a bonus point before India were all out on the first delivery of the 46th over.
Tillakaratne Dilshan (51) and Mahela Jayawardene (45) gave Sri Lanka the ideal start with a 95-run opening stand after they won the toss and opted to bat.
Sri Lanka lost three quick wickets during the middle overs and needed some an assault by Lahiru Thirimanne (62) and all-rounder Angelo Mathews (49 not out) to get to 289 for six from their 50 overs.
Captain Jayawardene was out to a superb diving catch by his Indian counterpart Virender Sehwag off left-arm seamer Pathan before Dilshan and Kumar Sangakkara (8) departed in quick succession.
Left-handed Thirimanne added 71 for the fourth wicket with Dinesh Chandimal (38) and combined in another 49-run stand with Mathews, who hit four boundaries and a six during his 37-ball knock, as Sri Lanka garnered 91 runs from their last 10 overs.
India withdrew a run out appeal against Thirimanne in the 40th over after Ravichandran Ashwin had removed the bails at the non-striker's end while the batsman had backed out of the crease during the delivery.
Table toppers Australia will play second-placed Sri Lanka in the ninth match of the Tri-series at Hobart on Friday.
Scoreboard
Sri Lanka innings
M. Jayawardene c Sehwag b Pathan                                       45
T. Dilshan c Patel b Ashwin                                                         51
K. Sangakkara c Tendulkar b Yadav                                         8
D. Chandimal b Pathan                                                                38
L. Thirimanne c Raina b Ashwin                                             62
A. Mathews not out                                                                      49
T. Perera b Raina                                                                           10
F. Maharoof not out                                                                     4
Extras (b-1 lb-2 w-18 nb-1)                                                        22
Total (for six wickets, 50 overs)                                            289
Did not bat: N. Kulasekara, L. Malinga, R. Herath Fall of wickets: 1-95 2-104 3-124 4-195 5-244 6-265
Bowling: Kumar 8-1-48-0 (1nb), Pathan 10-0-54-2 (4w), Yadav 8-0-58-1 (2w), Jadeja 10-0-43-0 (1w), Ashwin 10-0-50-2 (4w), Sehwag 2-0-9-0, Raina 1-0-10-1 (1w), Kohli 1-0-14-0 (2w)
India innings
V. Sehwag c Kulasekara b Malinga                                         0
S. Tendulkar b Kulasekara                                                        22
G. Gambhir c Perera b Kulasekara                                        29
V. Kohli c Kulasekara b Perera                                                66
S. Raina c Thirimanne b Maharoof                                         32
R. Jadeja b Kulasekara                                                                17
I. Pathan c & b Perera                                                                 47
P. Patel c Malinga b Perera                                                       4
R. Ashwin c Sangakkara b Malinga                                        5
V. Kumar c sub b Perera                                                            0
U. Yadav not out                                                                          0
Extras (lb-7 w-9)                                                                         16
Total (all out, 45.1 overs)                                                       238
Fall of wickets: 1-0 2-38 3-54 4-146 5-172 6-191 7-215 8-232 9-233 Bowling: Malinga 8-0-55-2 (2w), Kulasekara 9-0-40-3 (4w), Maharoof 10-1-52-1, Mathews 4-0-12-0, Perera 7.1-0-37-4, Herath 7-0-35-0 (1w)
Sri Lanka won by 51 runs.
Around the Web