By Carwyn Holland
Barbadian Shawn "The Sniper" Cox and Guyanese Wayne "Big Truck" Braithwaite are both promising victory after the two met face-to-face for the first time yesterday in the boardroom of the Abdool and Abdool Incorporated office on Avenue of the Republic.
The two clash Saturday night at the Cliff Anderson Sports Hall for the  World Boxing Council (WBC) CABOFE heavyweight title.
"I will knock out`The Truck'", wasCox's prediction. "It's Mash time, and Trucks are dressed up, so I'll be wearing the belt after the fight," Braithwaite retorted. Cox might just be contemplating his next move. He has signed a contract to meet the Plaisance-born punching machine which looks good on paper, sounds exciting on the airwaves, but presents an odd feeling once you come face to face with the confident Guyanese called "Big Truck" Braithwaite."I have always wanted a big fight and this is an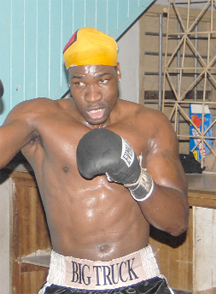 opportunity for me to fight a former World champion. I have been preparing myself from day one for this fight and I'm confident I will knock him out on Saturday. It's going to be a war and somebody will get hurt, but it won't be me. Since I turned professional I've prepared my body for tough fights," Cox told Stabroek Sport.  Braithwaite, on the other hand, seemed very relaxed and displayed his usual confidence. He spent time wisecracking and reminding GBBC officials that they would need an ambulance outside of the arena.
"I am ready to win for my Guyanese people," Braithwaite stated. All my people who get put on bench at the airport and so on, this one is for you. I will knock him out! I know Cox is a good fighter but he has to be prepared not to miss once he throws a punch, much less if he connects and I am still standing. You know how I fight, so if he hits me with his best shot and I am still in front of him he might as well run out the ring," he added.
Several persons yesterday weighed in on the fight and so far the odds seem against the man from the land of the flying fish.Dillon Carew, Braithwaite's head coach, was full of confidence when this newspaper spoke to him after a workout at a gym in the USA. "Too much body shots for that Bajan when he fights my boy on Saturday. Wayne will take care of business and I have prepared him for anything Cox has to offer," he said. Carew, a former Guyana Olympian, is considered to be a leading trainer in the USA and is known for his ring craft and boxing smarts when in the ring.  Now a trainer, he has applied his vast knowledge to his charges and is rated as a top coach is his district in the USA. Steve Ninvalle,  former Sports Journalist said he has no doubt Braithwaite will win while Enrico Wolford, of Capitol News,  who travels and supports Braithwaite and other Guyanese fighters whenever they are engaged to fight also gave the thumbs up for the Plaisance born boxer.
"Once he (Braithwaite) keeps his original style of fighting, I don't see Cox beating him at all," the Senior Media Practitioner said with confidence.  Braithwaite and Cox will meet this Saturday at the Cliff Anderson Sports Hall for the WBC CABOFE Heavyweight Title. Braithwaite, a former world champion will be coming off a long layoff while Cox has been kept busy by the Guyana Boxing Board of Control who brought him here several times to headline the Monthly Pro-AM Boxing Cards. Braithwaite, however, said he is not worried about his lack of activities and is in the best shape of his life.
Around the Web