STOCKHOLM, (Reuters) – Olympic pole vault champion Yelena Isinbayeva showed she was back to her best with an indoor world record of 5.01 metres to win the event at the XL Galan indoor meeting in Stockholm by 29 centimetres yesterday.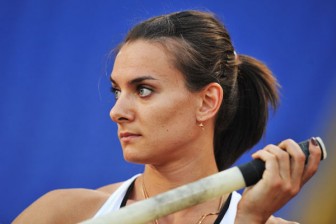 The Russian, who has struggled with form and injury for the past couple of years, bettered her previous world indoor mark by one centimetre leaving British Olympic hope Holly Bleasdale a distant second with a best clearance of 4.72.
Isinbayeva was virtually unbeatable in the pole vault between 2003 and 2009 and after seasons of disappointment has now announced her return to form in Olympic year.
"This was my night, and my body answered 'yes'," said Isinbayeva, who also holds the outdoor world record of 5.06. "I just jumped. I just enjoyed the competition, I enjoyed my performance.
"That was the real comeback," added the 29-year-old, whose last major title was at the 2008 Olympics.
"My coach has helped me realise that this is my real level, not lower."
Asked whether anyone else could beat her this year, Isinbayeva told Reuters: "I think you can answer that question yourself," in reference to her winning margin of 29cm.
"Next time I'll get them to raise the bar by three or four centimetres instead of just one."
On a good night for the Russians Anna Chicherova won the women's high jump, clearing two metres.
Around the Web