By Emmerson Campbell
Will the 'Big Truck' roll over the 'Sniper' or will the 'The Sniper' shoot down the 'Big Truck'?
That question will be answered tonight at the Cliff Anderson Sports Hall (CASH) when former World Boxing Council (WBC) cruiserweight champion Wayne 'Big Truck' Braithwaite collides with the WBC Caribbean Boxing Federation (CABOFE) cruiserweight champion Barbadian, Shawn 'The Sniper' Cox.
The bout will headline four other CABOFE title fights on the card dubbed WBC Cup: Caribbean Champions.
The two knockout specialists will be fighting for the vacant WBC CABOFE heavyweight title.
Ever since the fight became official, Braithwaite and Cox, as well as pundits have predicted that the fight would not go to the distance.
At yesterday's press conference which was held at the National Communications Network (NCN) Studios, the verbal sparring continued as both boxers traded insults and reiterated that the combat would not last the 12 scheduled rounds.
"He is garbage," said Braithwaite in disdain.
"No one-hand fighter can beat me. All the people who beat me were World champions. I am going to knock this girl," boasted Braithwaite.
The 36-year-old Braithwaite, who weighed in at 211 pounds, is based in the United States of America (USA) and trains at the World famous Gleason Gym in Brooklyn, New York.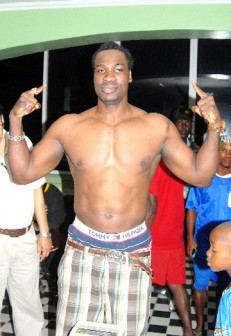 He has an outstanding record of 24 wins and four losses with 20 of his wins by knockout. The former World champion, who has never lost on home soil, will be looking to crush the 'Sniper' and keep his local undefeated record intact.
Cox, 37, who tipped the scales at 209 pounds, said that he was privileged to be in the ring with Guyana's second World champion but he will also take the privilege to knock out Braithwaite as he felt insulted by being called garbage.`
"It is an honour for me to fight a former World champion. I have prepared for years to fight the best of the best, I train hard for my fights  and I respect my opponents, but he calling me garbage is an insult and I am going to knock him out," said Cox.
The 'Sniper', who is also undefeated in Guyana, will be looking to take out Braithwaite and to keep that record unblemished. Cox has a professional record of 15 wins and one defeat with 14 of his wins coming by the knockout route. Cox's last victory was a first round demolition of Guyana's current cruiserweight and heavyweight champion Kurt Bess last December.
The main supporting bout will see Guyana's middleweight champion Edmond 'Wonder Boy' DeClou matching gloves with former WBC CABOFE junior middleweight champion, Trinidadian Kevin Placide for the vacant middleweight title.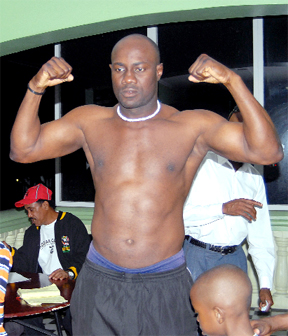 DeClou, who won the local accolade by defeating Howard 'Battersea Bomber' Eastman by majority decision last October, was heavily criticized and taunted by Placide.
Placide, in a trash talking, comedic mood, brought out a certificate that read 'The University of Kevin Placide', the paper outlined the ways in which DeClou will 'graduate' after being taught a boxing lesson.
DeClou highlighted that Placide was knocked out by Eastman in 2010 and there was no way the Trinidadian would defeat him.
Said the 'Wonder Boy':"I beat Eastman for my title, the same Eastman that knocked you out; there is no way nothing like you beating me, when we go in that ring, I will be the one teaching you a lesson."
Both Declou and Placide weighed in at 159 pounds.
Also on the undercard, former CABOFE junior welterweight champion, undefeated Barbadian Miguel 'Hands of Stone' Antoine will have a trilogy with Barbados-based Guyanese Revlon Lake for the vacant super lightweight title. Antoine won on points in the initial encounter in 2006 and knocked out Lake in round five in their last bout in 2009.'Hands of Stone' weighed in right on the 140 -pound limit while Lake tipped the scales at 137 pounds.
Reigning bantamweight champion USA-based Guyanese, Elton 'Coolie Bully' Dharry will defend his title against Barbadian Selwyn Lett. Dharry and Lett both weighed in at 117 pounds.
For the vacant flyweight title, journeyman Orlan 'Pocket Rocket' Rogers will try to avenge his three previous losses to Dexter 'The Kid' Marques, twice in 2007 and once in 2010. Rogers weighed in at 112 pounds while 'The Kid' weighed in one pound lighter.
Each fight will be fought over 12 championship rounds.
The card is a true mix of local and Caribbean fighters which will provide the winners with the opportunity to represent the Caribbean at the WBC Cup that boxes off in May.
The WBC Cup is a 40-week tournament to celebrate the WBC's 50th anniversary. It will allow boxers in the tournament from all around the world to receive lucrative pay days as well as international exposure.
The winner of each division in the WBC Cup will walk away with US$250,000 (50 million Guyana dollars) and even from the very first round of elimination fighters as CABOFE champions, according to reports,  will earn as much as US$20,000 (four million Guyana dollars) to US$30,000 (six million Guyana dollars)  for the losers  and US$50,000 (10 million Guyana dollars) to US$70,000 (14 million Guyana dollars) for the winners, sums that are usually not readily available at the stages of most of the fighters career.
Ringside seating will cost $3000 while seating in the stands will cost $1500. Action starts at 20:00hrs and the event will not be televised live.
Regular Guyana Fight Night passes will not permit holders to enter the venue.
Around the Web