ST JOHN'S, Antigua, CMC – Out-of-favour West Indies batsman Narsingh Deonarine and Leon Johnson stroked accomplished half-centuries but Guyana lost a clatter of wickets in the last session to surrender their firm grip on the opening day of their Regional Four-Day match against leaders Jamaica yesterday.
The left-handed Deonarine, who played the last of his eight Tests and 20 One-Day Internationals nearly three years ago, fell just short of a century with 89 while Johnson stroked 72 to help lift Guyana to 217 for six at the Vivian Richards Cricket Stadium.
Guyana seemed to be cruising at 176 for two before leg-spinner Odean Brown, who claimed four for 65, triggered a collapse and sent four wickets tumbling for 40 runs.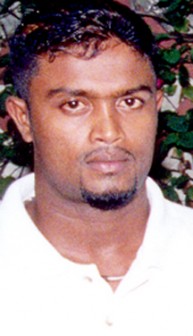 Winning the toss and batting in the day/night affair, Guyana lost Derwin Christian for 13 with the score on 19 for one, caught at cover by Donovan Pagon off fast bowler Andrew Richardson.
Trevon Griffith followed him soon afterward for nine with 10 runs added when he drove left-arm spinner Nikita Miller for Brown to take a
diving catch at mid-off.
Deonarine and Johnson then came together with Guyana stumbling on 29 for two and set about stitching up the innings with a fabulous stand of 147 for the third wicket.
Deonarine faced 186 balls in exactly four hours at the crease, striking nine fours and a six while Johnson hit 10 fours in an innings that spanned 186 balls and 248 minutes.
They batted the entire post lunch session before being separated when Johnson was prised out by Brown.
West Indies marquee batsman Ramnaresh Sarwan, in for his first game of the season, lasted all of two balls before he fell lbw to Brown without scoring, as Guyana slipped to 176 for four.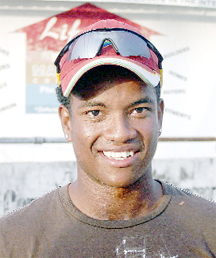 Deonarine continued to bat positively and seemed set for a century when he perished at 194 for five.
The in-form Assad Fudadin (11 not out) and Christopher Barnwell (12) were taking Guyana towards the safety of the close when Brown struck again, removing Barnwell lbw.
Scoreboard
GUYANA 1st Innings
T Griffith c Brown b Miller                                  9
+D Christian c Pagon b Richardson               13
L Johnson c Lambert b Brown                        72
N Deonarine c Lambert b Brown                   89
R Sarwan lbw b Brown                                         0
A Fudadin not out                                               11
C Barnwell lbw b Brown                                    12
Extras (b4, lb4, nb3)
TOTAL (6 wkts, 90.4 overs)                         217
To bat: R Crandon, D Bishoo, *V Permaul, B Bess.
Fall of wickets: 1-19, 2-29, 3-176, 4-176, 5-94, 6-217.
Richardson 14-5-25-1, Cotterell 5-0-20-0, Miller 32-12-45-1, Bernard 15-2-47-0, Lambert 1-0-7-0, Brown 23.4-4-65-4.
JAMAICA – Tamar Lambert (captain), Brenton Parchment, Danza Hyatt, Donovan Pagon, Brendan Nash, David Bernard Jr, Carlton Baugh, Nikita Miller, Andre Richardson, Odean Brown, Sheldon Cotterell.
Toss: Guyana.
Umpires: Nigel Duguid, Clancy Mack.
Around the Web