Another Swiss system chess tournament commences to-day.
The Demerara Distillers Ltd. (DDL) sponsored  tournament, will be an Open eight-round  tournament, which will be played over two weekends at the Kei-Shar's Sports Club, Hadfield Street, Werk-en-Rust.
Four rounds will be completed this weekend and the remaining four games next weekend.
Trophies and cash prizes are at stake.
The tournament is being played under DDL's Topco Juices brand.
"Topco is proud to be associated with chess and we have been extremely pleased to watch its growth and development over the years," DDL's Marketing Assistant Almira Kassim said while presenting the sponsorship cheque to vice president of the Guyana Chess Federation Irshad Mohammed on Wednesday.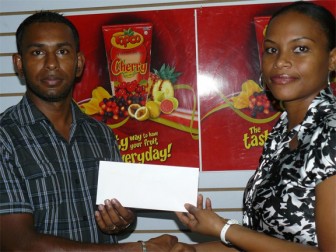 "We wish to commend the Guyana Chess Federation on the role they played in this process and the receipt of their well deserved National Sports Award for "Most Improved Association," Kassim added.
The tournament is open to all senior and junior chess players. Players are advised to walk with a pen to record their moves. The registration fee is $300 for seniors and $200 for juniors who are members of the Chess Federation. Non-members would pay an increased fee.
Registration begins at 12:30hrs and the first round starts at 13:30hrs.
Around the Web