BRIDGETOWN, Barbados, CMC – Resolute batting from Sulieman Benn and Kemar Roach lifted Barbados out of the depths of trouble against Combined Campuses & Colleges in the Regional 4-Day Tournament on Friday night.
Their excellent lower-order partnership came after CCC off-spinner Ryan Austin took two wickets to reach the landmark of 250 first-class wickets in his 61st match in his 11th season.
Benn scored 39 not out and Roach made 19, sharing 54 for the ninth wicket before the Barbadians were bowled out for a respectable 237 in their first innings just prior to the rescheduled close on the rain-affected opening day of the day/night, fourth round match at Kensington Oval.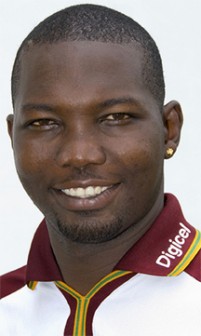 CCC were no runs without loss from two overs when stumps were drawn with their captain Romel Currency and Yannick Ottley, both not out on zero.
Barbados were 183 for eight before Benn and Roach brought them back into match, after several of the hosts' batsmen got starts, but failed to carry on.
Left-hander Jonathan Carter hit the top score of 47, West Indies opener Kraigg Brathwaite and veteran left-hander Ryan Hinds made 25, and Christopher Jordan got 21.
Kevin McClean, one of six Barbadians in the CCC side, was the most successful bowler for the composite side with three wickets for 30 runs from 13.3 overs.
Barbados were set back early after they chose to bat, when left-handed opener Omar Phillips, the former CCC captain, was caught at mid-off from the bowling of McClean for eight, essaying a drive.
West Indies batsman Kirk Edwards, the Barbados captain, joined Brathwaite and defied the CCC attack for close to an hour before he was caught at gully for 10 fencing at a sharply rising delivery from left-arm fast-medium bowler Raymon Reifer.
Brathwaite played a typically dogged innings and looked set to bat through lunch before Jason Dawes bowled him, when he played defensively on the back foot, as the Barbadians reached 77 for three at lunch.
After the interval, Barbados continued to make steady progress in between the showers, but two wickets set them back further, leaving them 134 for five at tea.
Ryan Hinds was caught at gully, as he fenced at a lifter from Dawes before the home team crossed the hundred-run threshold and Kenroy Williams was caught behind off Ryan Austin's off-spin, essaying a cut Jonathan Carter cutting.
After the break, Carter led Barbados' defiance and was on course to reach his 50, but a sharply, rising delivery from Jason Holder stuck his right-hand to the handle of the bat.
He never had the same fluency before Holder put him out of his misery, caught behind top-edging an ill-advised cut in an innings that contained eight boundaries from 99 balls in just over two hours.
Jamal Smith, a belated selection, after regular wicketkeeper/batsman Shane Dowrich withdrew on the eve of the match, was caught at gully for four fencing at a rising delivery off Holder, sinking the Barbadians to 162 for seven.
Christopher Jordan soldiered with Benn before he was caught at mid-off from the bowling of Austin for 21.
Benn dominated his stand with Roach, striking three fours and one six over long-off into the back row of the Three Ws Stand off his close friend Austin in his 89-ball innings that lasted just over two hours.
But the innings came to a swift end, when McClean returned for a third spell from the Malcolm Marshall End and removed Roach and Tino Best off successive deliveries.
Dawes finished with two for 35 from 13 overs, Holder grabbed two for 55 from 17 overs, and Austin collected two for 59 from 26 overs.
The Barbadians made two changes with Williams and Smith replacing resting West Indies fast bowler Fidel Edwards and injured wicketkeeper/batsman Shane Dowrich; CCC were unchanged.
Both sides are locked on 12 points and are tied for fourth with Windward Islands.
Scoreboard
BARBADOS 1st Innings
K. Brathwaite b Dawes                                  25
O. Phillips c *Currency b McClean             8
*K. Edwards c Bonner b R. Reifer             10
R. Hinds c Holder b Dawes                          25
J. Carter c wkpr Walton b Holder            47
K. Williams c wkpr Walton b Austin       12
C. Jordan c Dawes b Austin                       21
+J. Smith c *Currency b Holder               4
S. Benn not out                                               39
K. Roach c F. Reifer b McClean               19
T. Best c Ottley b McClean                         0
Extras (b4, lb9, w3, nb11)                      27
TOTAL (all out, 82.2 overs)                   237
Fall of wickets: 1-11, 2-43, 3-70, 4-91, 5-129, 6-158, 7-162, 8-183, 9-237
Bowling: McClean 13.3-3-30-3; Dawes 13-2-35-2 (nb5, w1); Holder 17-5-55-2 (w2); R. Reifer 6-2-13-1; Austin 26-6-59-2 (nb6); Bonner 4-0-19-0; Ottley 3-0-13-0
COMBINED CAMPUSES & COLLEGES 1st Innings
*R. Currency not out                                0
Y. Ottley not out                                        0
TOTAL (without loss, 2 overs)             0
K. Corbin, N. Bonner, R. Reifer, F. Reifer, C. Walton, J. Holder, K. McClean, R. Austin, J. Dawes to bat
Bowling: Best 1-1-0-0; Roach 1-1-0-0
Position: CCC trail by 237 runs with all first innings wickets standing
Toss: Barbados
Umpires: V. Bullen, P. Nero
Match referee: M. Jones
Reserve umpire: L. Reifer Jr
Around the Web