PORT OF SPAIN, Trinidad,  CMC  Denesh Ramdin stroked his ninth first class century to power Trinidad and Tobago to a handy total but Windward Islands were making a strong reply at the close on the second day of their Regional Four-Day match here yesterday.
The right-handed Ramdin carried his overnight 67 to a brilliant unbeaten 151, an innings that allowed the hosts to declare just before tea on 364 for nine at Queen?s Park Oval.
However, 23-year-old Keddy Lesporis carved out a counter-attacking, unbeaten 71 to help the Windwards recover from a shaky position of 30 for two and steer them to 119 without further loss at stumps.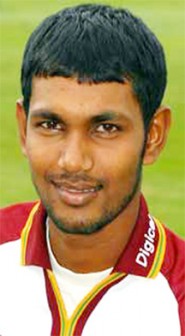 It was Ramdin, however, who took centre stage with a classy knock that put T&T in a strong position for first innings honours.
After T&T resumed on 226 for six, Ramdin helped add 138 runs with the lower order on a day affected by rain.
He put on 22 for the seventh wicket with Reyad Emrit (12), added a further 43 for the eighth wicket with Sunil Narine (17) before engaging in a rollicking, unbroken ninth wicket stand of 68 with debutant Emile Rajah (16).
He lost Emrit bowled by the quick Nelon Pascal at 248 and Sunil Narine hung around until after lunch when he attempted to go over the top and holed out to Johnson Charles at mid-off off off-spinner Shane Shillingford (3-82).
Ramdin was 94 at this stage and seemed in danger of running out of partners but Rajah showed a cool head in helping his skipper to his landmark.
The former West Indies vice-captain brought up three figures in style with a boundary off left-arm spinner Garey Mathurin, reaching his milestone off 213 balls in 278 minutes, with seven fours and one six. He then accelerated his scoring, requiring only another 56 balls to reach 150, while counting another seven fours, in just over another hour at the crease.
The Windwards then wilted under a new ball burst from pacer Shannon Gabriel (2-51) who removed both openers in quick succession before tea.
He had Johnson Charles caught at the wicket for 15 with the score on 29 and with just one run added, removed Andre Fletcher without scoring.
However, Lesporis counter-attacked well, cracking 12 fours and a six off a mere 61 balls to haul the Windwards back into the contest.
He has so far added 89 for the third wicket with West Indies opener Devon Smith who has played the sheet anchor role with a sedate 25.
Scorebiard
T&T 1st Innings
J Guillen lbw b Johnson                                      7
I Khan lbw b Pascal                                            24
D Ganga lbw b Johnson                                      0
D Bravo c Sammy b Mathurin                        64
J Mohammed c Sebastien b Shillingford   12
*D Ramdin not out                                            151
+G Mohammed lbw b Shillingford                28
R Emrit b Pascal                                                   12
S Narine c Charles b Shillingford                  17
E Rajah b Sebastien                                           16
S Gabriel not out                                                  0
Extras (b10, lb9, w4, nb10)                            33
TOTAL (9 wkts decl., 124 overs)                 364
Fall of wickets: 1-17, 2-17, 3-71, 4-101, 5-145, 6-226, 7-248, 8-291, 9-359.
Bowling: Pascal 23-3-84-2, Johnson 5-2-8-2, Sammy 21-3-57-0, Shillingford 36-7-82-2, Mathurin 30-5-90-1, Sebastien 9-2-24-1.

WINDWARDS 1st Innings
J Charles c wkp G Mohammed b Gabriel     15
D Smith not out                                                      25
A Fletcher c J Mohammed b Gabriel              0
K Lesporis not out                                               71
Extras (lb5, nb3)                                                    8
TOTAL (2 wkts, 31 overs)                            119
To bat: L Sebastien, *D Sammy, +L James, G Mathurin, S Shillingford, N Pascal, D Johnson.
Fall of wickets: 1-29, 2-30.
Bowling: Narine 12-4-26-0, Gabriel 9-0-51-2, R Emrit 7-2-26-0, Rajah 3-1-11-0.
Toss: T&T.
Position: Windwards trail by 245 runs.
Umpires: Michael Gough (ENG), Joel Wilson.
Around the Web