The recent Mashramani Swim Meet/National Swimming Championships at the National Aquatic Center (NAC) saw the introduction of Guyana's first ever Long Course (LC) swimming competition.
That competition provided one eager little girl with the opportunity to become a part of swimming's history.
Grade 5 May's Primary School student, Amy Grant, became the first swimmer to establish national LC records in the girls' 9 – 10 50m freestyle and 50m backstroke events.
"I felt very excited. I thought I would come close but I didn't think that I would break the records. I feel glad and satisfied," Grant told Stabroek Sport in an exclusive interview.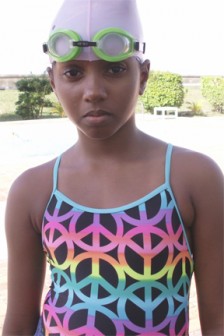 At 10-years-old, Grant is the youngest of four record breakers who will go down as the first local swimmers to establish LC records swimming at home.
Prior to this, Guyana's LC records were achieved at overseas meets.
Grant, who has been swimming for the past two years, fell short of a third record after she was disqualified in the 100m backstroke event.
"I felt very, very sad [about being disqualified], I've never been disqualified in my life," Grant said of her disappointment with the disqualification.
In the 50m backstroke event, Grant broke the 16 year record of Asanti Mickle, finishing with a personal best time of 46.88 seconds.
Her time was six seconds faster than the previous record which stood at 52.59 seconds.
The Silver Shark Swim Club swimmer claimed the 50m freestyle with a 39 seconds Personal Best time.
Grant is also the national champion of the 100m freestyle event which she won in 1:36.14s.
A lover of the water, it was young Grant who first approached her parents with the idea of taking up swimming as an extra curricular activity.
"Basically it's what she wants. She loves the water, and as her parents, we will give her whatever assistance she needs and the rest is up to her," Grant's mother told Stabroek Sport.
A vibrant girl, apart from swimming, little Amy also plays the piano, takes guitar and Spanish lessons and sings in a choir.
Between all of this Amy juggles the demands of swimming and attending school.
Unable to attend the regular training sessions at the 50m pool in the weeks leading up to the competition due to her busy schedule, Grant sought, and was granted permission by Director of Sport, Neil Kumar, to use the pool in the early afternoon; a favour for which she is very grateful.
Daughter of tennis champion Rudy Grant, Amy doesn't share her father's zeal for the racquet sport. Instead of the courts, it is the pool that she has a passion for.
"I'm not really into tennis so much. I do play but just for the fun of it. I started out swimming just to have some fun, [but] I was moving onto the next level and I got the feeling `what's the use of just sitting around when I can become competitive?'" Amy said.
Grant started out at the Colgrain Swimming Pool in a Learn-to-Swim programme back in 2010. Following the prolonged closure of Colgrain later that year, she did a training stint at the Castellani Swimming Pool under Coach Sean Baksh.
Sidetracked from swimming for a few months following an ear infection, Amy returned to training under the tutelage of her mother while utilising the services of the swimming pool at the Ocean View Hotel through the kind compliments of hotel owner Jacob Rambarran.
Grant's current coach at the Silver Sharks Club is Rawle Collins.
Collins describes Grant as a very self-motivated individual who is very easy to work with. For Collins, he sees Grant reaching far with her swimming skills
"She always strives for excellence. She's always concerned about her performance. I haven't been involved in Amy's younger days of swimming, I wasn't there when she started out, but given what I know about her from the few months that I've been working with her, I would say that it has always been that way." remarked Collins, who has been Amy's coach for the past few months since he became coach of the club
"She's a very good swimmer to work with. She's very trainable. Right now she is on the verge of entering the 11 – 12 age group and she is now stepping up and she shows the ability to advance into the next step quite easily," was his assessment of his new charge.
Grant has high hopes of one day making it to the Olympics, and says she admires the performances of national swimmers Britany van Lange and Niall Roberts.
Given her performance Grant is hopeful of being a part of Guyana's team at the regional Goodwill Swimming Championships, should the event come  off.
Should she succeed this would be her first time participating in a swimming event outside of Guyana.
And just perhaps, more records might tumble.
Around the Web