By Emmerson Campbell
One day after winning the feature 35-mile Invitational race of the 21st R&R International sponsored 'Teach Them Young' Programme on the inner circuit of the National Park on Saturday, Robin Persaud took his talents to the open road yesterday to capture the R&R International sponsored 40-mile road race.
Persaud won the event in one hour, 45 minutes and 16 seconds.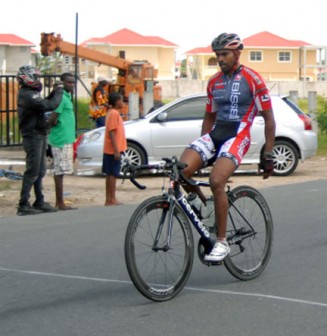 The race started at the Demerara Harbour Bridge, proceeded to Bushy Park and ended at the starting point.
Persaud, 36, led a star-studded line-up of Walter Grant-Stewart, Albert Philander, Orville Hinds, Enzo Matthews and Marlon 'Fishy' Williams into the top six positions.
Along with copping the winner's trophy, Persaud also won a sprint prize as did Alonzo Greaves, Williams, and Grant –Stewart. Warren '40' McKay was also the recipient of sprint prizes. He won two primes.
Talim Shaw, Junior Niles and Raymond Newton were the top three veterans while Paul DeNobrega, Raul Leal and Raynauth Jeffrey were the top three junior finishers respectively.
The event, which was the second road race for the year, saw 48 riders including female Naomi Singh facing the starter's pistol.
The event, which was highly competitive, saw the riders bunched together for most of the race with the lead interchanging periodically.
On the way back at the village of Uitvlugt, however, DeNobrega, Williams, Persaud, Grant- Stewart and Matthews broke away from the rest of riders. This group was hotly pursued by Philander and Hinds
Hinds and Philander would join the lead pack at Vreed-en-Hoop and this bunch would journey together until the homestretch. With 300 metres to go on the homestretch, the race was still undecided as the top six finishers were still bunched up.
With victory in sight, each of the riders rose from their respective saddles and a fierce sprint to the line ensued.
The experienced Persaud, who is gifted with superior sprinting ability, however seemed to find another gear and eased himself to the victory.
Mohamed, the national cycling coach, thanked the cyclists for making the event a successful one and stated  that he will pedal off the 15th annual Cheddi Jagan Memorial 55-mile road race in Berbice on March 4.
Around the Web