By Emmerson Campbell
The national men's Sevens rugby team, fresh off being declared joint Bowl winners at the recently concluded Las Vegas Invitational Sevens tournament, is now preparing for the HSBC Sevens World Series in Hong Kong from March 23 to 25.
The local ruggers earned a place at the HSBC Sevens World Series after they won their sixth consecutive North America Caribbean Rugby Association (NACRA) title last November in Barbados by demolishing the Cayman Islands by 29 points to nil.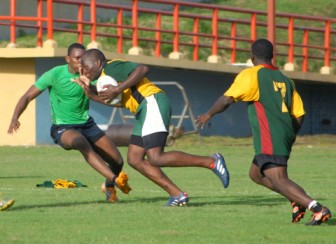 The team held its first post Las Vegas practice session at the Providence National Stadium on Saturday and Stabroek Sport was given an exclusive interview by coach/player Theodore Henry, where he disclosed the areas the team will be working on leading up to the prestigious tournament.
"Today's practice games were defensive oriented as will be most of the sessions leading up to Hong Kong because one of the things coming out of Las Vegas we realized that we can definitely get points on the board but we need to stop the opposition from scoring, so these sessions we will be focusing on our defense," said Henry.
Henry also stressed that the team's fitness was  another area that the team will be focusing on.
"Leading up to Hong Kong we will mostly be focusing on our fitness and defence, because once we are fitter we will last longer and we will be able to play solid defence throughout the game," he declared.
"We got in three games today and we did a lot of work on our defensive alignment as well as some fitness drills, I think our fitness has a lot to do with our defence especially late in games, once we are fit and well prepared we will be able to be a better defensive team" Henry opined.
The Hong Kong tournament is very important to the Guyana side as it is one of the pathways to qualifying for the 2016 Olympics in Brazil. Hong Kong will also serve as a Qualification Tournament that can possibly make Guyana a Core team.
Players on Core Teams become semi professionals and are paid as semi professionals. Core Teams are also invited and accommodated free of cost to all of the HSBC tournaments.
The team is scheduled to hold other practice sessions on Thursday afternoon and Saturday morning.
Around the Web