The Guyana Defence Force (GDF) and Beacons Football Club will contest the NAMILCO Football final this Sunday following the semi-finals matches at the Tucville ground two days ago.
The Soldiers scraped home by a 1-0 margin in their semi-final against Fruta Conquerors while Beacons advanced by virtue of Alpha United's withdrawal from the tournament.
The GDF looked the fitter team but their finishing left much to be desired.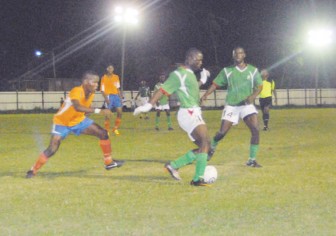 However, they secured a place in the final when Delwin Fraser netted almost on the sound of the final whistle to give the soldiers victory and a chance to battle for the top prize of $1 million.
Sunday also saw the return of Sunburst Camptown and Riddim Squad both losing quarter-finalists in an effort to fill the void created by the withdrawal of Alpha United so that a third placed team could be determined.
After a scoreless first half, Camptown netted two goals in quick succession in the latter stages of the match to secure a win and a chance to contest the third place playoff.
Camptown's goals were scored by Malcolm Wilson in the 76th minute and Ronel Gordon in the 88th minute.
Camptown will now meet Conquerors in the third place playoff in the first match of the double header at Tucville ground.
Marlan Cole, President of Fruta Conquerors football Club the organizers of the tournament had written to the Georgetown Football Association (GFA) to intervene in determining Beacons place in the final following Alpha's withdrawal.
Cole had also sought the GFA's position in determining whether Camptown and Riddim Squad should return to the competition.
"I write this letter to thank you for your timely intervention at the Tucville ground on the night of February 26th, 2012, where you allowed the participation of Riddim Squad Football Club and Camptown Football Club in an official Match in the Namilco Football Festival. This support has allowed us to salvage a potentially disastrous situation and again for this and in the interest of fans, the game and sponsors, we are grateful," Cole wrote.
He added that as organisers, Fruta Conquerors also required the intervention of the GFA in guiding the club to determine the teams to contest the final in reference to Beacons.
Sixteen teams were invited to participate in the tournament sponsored by National Milling Company (NAMILCO) now in its fifth year.
Kick off on Sunday is at 19:00 hours.
Around the Web