Former West Indies and Guyana leg-spinner Mahendra Nagamootoo is still creating problems for batsmen  grabbing a five wicket haul on the weekend for Central Sports in their clash against W Connection Wanderers in Tribidad and Tobago.
After his team had folded for just 98 in their first innings, Nagamootoo turned in a fine display of leg-spin bowling, capturing 5/13 to bowl out the Gus Logie-coached Wanderers for 53. Batting a second time Central Sports made 118/9 declared with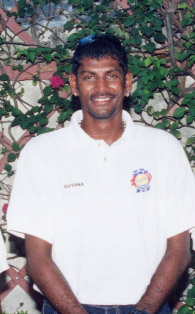 Nagamootoo getting 20. Wanderers closed out the game as a draw reaching 90 for six in their second innings.
Elsewhere, former Guyana opener Krishna Arjune was in fine form for his club Seenath's Auto Bamboo against Queen's Park Cricket Club. Arjune struck 67 in his team's first innings effort of 237 all out. Queen's Park then responded with 262 all out to claim first innings lead. Batting a second time Bamboo reached 45/1 with Arjune unbeaten on 25, as the match ended in a draw.
The only Guyanese player on the winning team on the weekend was Shemroy Barrington, whose club Merry Boys went on to defeat T&TEC by 118 runs.
Barrington scored 23 in Merry Boys low-scoring first innings effort of 108. T&TEC was then bowled out for 62 and Merry Boys got to 127 in their second innings. Set 174 runs to win, T&TEC was bowled out for just 55 – losing handsomely.
In Central, Delbert Hicks struck 37 for Alescon Comets as they tied on first innings with Esmeralda Sports Club.
Premier Division scores:
Seenath's Auto Bamboo Sports 237 all out (Krishna Arjune 67 & 45/1 in 20 overs (Krishna Arjune 25 n.o.) vs QPCC 262 all out – Queen's Park won on first innings
SIS Central Sports 98 all out i118/9 dec (Mahendra Nagamootoo 20) vs W Connection Wanderers 53 all out(Mahendra Nagamootoo 5/13) & 90/6 –
Central Sports won on first innings.
Merry Boys 108 all out (Shemroy Barrington 23) & 127 all out vs T&TEC 62 all out & 55 all out – Merry Boys won by 118 runs.
Alescon Comets 171 all out (Delbert Hicks 37) vs Llumar Esmeralda 171 all out – Match tied on first innings.
Around the Web