By Emmerson Campbell
After retaining his World Boxing Council (WBC) Caribbean Boxing Federation (CABOFE) bantamweight title with a first round demolition of Barbadian Selwyn Lett last Saturday night at the Cliff Anderson Sports Hall (CASH), US-based Guyanese Elton 'Coolie Bully' Dharry is now focused on the WBC Cup.
The WBC Cup is a 40-week tournament to celebrate the WBC's 50th anniversary. It will allow boxers in the tournament from all around the world to receive lucrative pay days as well as international exposure.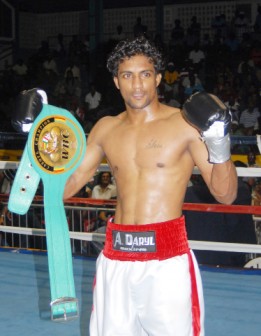 The winner of each division in the WBC Cup will walk away with US$250,000 (50 million Guyana dollars) and even from the very first round of elimination fighters as CABOFE champions, according to reports,  will earn as much as US$20,000 (four million Guyana dollars) to US$30,000 (six million Guyana dollars)  for the losers  and US$50,000 (10 million Guyana dollars) to US$70,000 (14 million Guyana dollars) for the winners, sums that are usually not readily available at this stage of the career of most of the fighters.
During an exclusive interview with Stabroek Sport yesterday, the bantamweight champion disclosed his preparatory plans for the WBC Cup.
Dharry, who will return to the USA tomorrow, said he plans on resuming training at the Gleason's Gym in Brooklyn, New York on Monday under the watchful eyes of trainers Martin Gonzales and Don Saxby.
"I plan on returning to Gleason's Gym on Monday to start a training camp, possibly get some sponsors. I know going out there in the tournament I will be facing World class boxers so I have to do a lot of hard work and whatever it takes to get me as best prepared as possible," said Dharry.
When asked if Lennox Blackmore, who trained him for the bout with Lett, will also be preparing him for the WBC Cup, the 'Coolie Bully' said he was unsure but he will see what materializes in the days ahead.
The 25-year-old Dharry said that the tournament provides a once in a lifetime opportunity to boxers and he will do his best to make the most of it.
"The WBC Cup is a once in a lifetime tournament and I will do my best. I train hard for every fight but I will be training even harder for this tournament, I want to be the best and in order to be the best, you have to beat the best. My ultimate goal is to be a World champion and this tournament can fast track my career to being a World champion so I'm just focused on doing well at the tournament," Dharry stated.
Dharry who will have his work cut out in the WBC Cup, especially with the Mexican fighters, mentioned that he plans on scouting his potential opponents and reviewing tapes of their fights.
"Before the tournament, I plan on studying my opponents; I will ask Peter Abdool (president of CABOFE) to get me tapes of these guys so I would have a fight plan. I need maximum preparation for this tournament because the guys are hungry  for success just as I am and I have to do whatever it takes to win."
Dharry also disclosed that he is interested in taking on two challengers in the welterweight division who are willing to step into the ring as warm-ups for the tournament.
"I am interested in taking on two fights as warm-ups, possibly one here and one in the states," Dharry said.
"Whoever wants to step in the ring at 118 pounds (the bantamweight limit) I'm out to face anybody, I don't have a problem facing anyone, 'Coolie Bully' stated.
The WBC CABOFE bantamweight champion also thanked his fans and his family for the support he received at the CASH on Saturday night.
Around the Web