Defender John Paul "JP" Rodrigues has dispelled rumors that questioned his commitment to the Guyana National Football team by reaffirming unequivocally his pleasure to be back in the Golden Jaguars set-up.
The 28 year old versatile defender has played 15 internationals for Guyana since making his debut for the team during the 2006 World Cup qualifiers.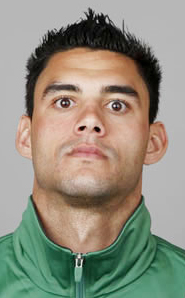 He, however, has not played for the national side since the Digicel Caribbean Cup in late 2010 and was the most notable foreign based player absent during the now successful 2014 World Cup qualifying round during last September – November.
Speaking to Stabroek Sport at the team's camp at the Signature Inn in Queenstown, Rodrigues clarified his position which has been the focus of much speculation by  ardent fans of the Golden Jaguars.
"A lot of personal stuff was going in my life that I had to take care of. Family situation, I was getting married and a whole host of things. So at that stage I really couldn't afford to leave the country multiple times, to link up with the team," Rodrigues explained.
He continued: "To compound that I had a bad abdomen injury which at first I thought was a sports hernia, which made me miss the final five games of North American Soccer League (NASL) season with my club Tampa Bay Rowdies. When I was called up for one of the qualifiers last year I was already at the airport and I felt terrible pain. I called coach Shabazz and told him about it and explained that I really need to get myself checked up.
"I have seen situations in my club where players report to camp injured and don't play, so I didn't want to waste my selection by coming," he explained
When asked if the aforementioned meant without a shadow of a doubt his long standing commitment to the team – Rodrigues responded in the affirmative.
"Oh yea, I have always been fully committed to the team. I was always in contact with coach Shabazz during my ordeals and it really was a tough decision not to come and be part of the qualifiers last year. "Everything is good now personally and I'm 100% focused on doing my part as player for the team," he explained in a humble tone.
Rodrigues stated in his absence he had followed the team's progress and was not surprised that the team was able to topple Trinidad and qualify as group winners in the second round.
"It wasn't anything I didn't expect the team to do. I played with most of these players leading up to those games and when I heard Shabazz was coming back also, I knew positive things was going to happen."
Before his absence, Rodrigues was one of the main central defenders for the national team, but as most fans know the arrival of English based Leon Cort to the national set-up to partner veteran Charles "Lilly" Pollard has given the Golden Jaguars arguably one of the best central defensive partnerships in the CONCACAF region.
Asked how he sees himself fitting into the team now that he is back, Rodrigues was cognizant of the fact that it would not be easy.
"I don't know how I'm going to fit it now really – but that's how football and more specifically international football is, a lot of quality players are always round fighting for places. I see myself as a versatile player that can play anywhere across the backline and defensive mid-field too, so the coach will decide what is best for me," he noted.
Finally when asked what he thinks of Guyana's chances of exiting this group, Rodrigues was optimistic and positive about the road ahead.
"I look at this way, Trinidad made the World Cup having to deal with teams like the United States and Mexico and get positive results, so it's not an impossible task. I have played this game a long time to know in fixtures like these, it's all about how you perform on the day in these one-off clashes. Guyana can do it and if I didn't think we could I don't know that I would have been here."
Around the Web