The Golden Jaguars kick off their 2012 preparation for the upcoming 2014 World Cup qualifying third round matches that commence in June, with a key international friendly this evening against Central American side Guatemala at 20:00hrs at the Guyana National Stadium Providence.
At a simple press conference at the Guyana Football Federation (GFF) Head Office in which representatives from the GFF and both the national teams were present, the game was launched by acting GFF President Franklyn Wilson.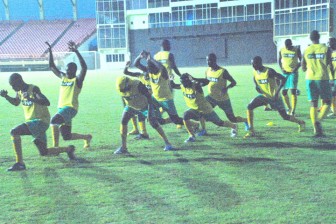 Both the Guyana coach Jamaal Shabazz and Guatemala's Paraguayan coach Ever Hugo Almeida somewhat tempered the hype for tonight's encounter by highlighting various reasons why this fixture is in many way a testing ground for the teams' upcoming clashes in the third round in June.
Guyana face CONCACAF powerhouses Mexico, Costa and El Salvador while Guatemala colloquially known as the "La Azul y Blanco" (the blue and white) lock horns with the United States (USA), Jamaica and Antigua and Barbuda.
Speaking through a local translator, Guatemala coach Almeida thanked the GFF for inviting his team and said they are looking forward to a keen contest with the local side. They are hoping also to repeat the 3-0 win that Guatemala inflicted on the Jaguars in the November 2010 friendly in Atlanta, USA.
Before coming to Guyana, Guatemala lost an international friendly 2-1 in the coach's home country of Paraguay.
He was  asked by the media if he knows much about the Guyana team and what areas of that defeat the team will be hoping to improve on during this evening's match-up.
"Paraguay is a very strong team, one of  the more established teams in South America that is not far off the quality of teams like Brazil, Argentina and Uruguay," stated Almeida through his translator.
He continued: "There is big difference tactically and style-wise between South American and Central American teams and although we lost 2-1 I felt my side acquitted themselves well and I hope we can implement the positive aspects from that defeat against Guyana.
Of Guatemala's strong 23-man playing contingent, the most notable absentee is their record goal-scorer, Carlos Ruiz.
In his absence mid-field star Marco Papa who plays his club football for Major League Soccer (MLS) team Chicago Fire is expected to be the key creative threat for the Guatemalan's role as the Trequartista (attacking mid-fielder).
When finally asked how important Papa is to the way Guatemala play, Almeida stated, "No doubt Papa is a very skillful player and important to our team, but as coach I always stress the importance of team work in order to maximize our abilities as a unit."
Guyana coach Shabazz opened his remarks by painting the picture of the Jaguars upcoming journey as being a "David amongst the Goliath" of CONCACAF teams in the region and stated that a win tonight would be a major stepping stone for the national side.
"A win would be great for us and would send a strong message to our upcoming rivals. Guyana is the David in the world of football against the Goliath in CONCACAF, with Guatemala being one of those teams," said Shabazz.
"If we weren't at this stage it would have been Trinidad and Tobago and I've seen many times over the years where Trinidad have faced teams such as Mexico, Costa Rica and Guatemala and not be embarrassed, so I'm confident we will hold our own."
He also highlighted that given the style of the Guatemala team, the team has been working hard in training on possession football compared to the regular style of counter-attacking football that Caribbean teams tend to play regularly.
In closing, acting GFF President Wilson thanked sponsors such as DDL, Ansa McCal, Giftland Office Max, New GPC , Sponsports,  DDL,  and Stag Beer for their support of the national side. He once again encouraged the fans to come out by the thousands in yellow to play to role of "12th" man to make the atmosphere as hostile as possible for the Central Americans.
Tickets for the game are on sale at ashmins for $1500 and fans are reminded will be streamed live on the internet at www.guyana-events-live.com.
Guyana 20-man squad from: Chris Nurse (captain), Richard Reynolds, Taylor Benjamin, Kester Jacobs, Anthony Abrams, Konata Mannings, Gregory Richardson, Anthony Benfield, Travis Grant, Sheldon Holder, Walter Moore, Trayon Bobb, Colin Nelson, Kayode McKinnon, Charles Pollard, Ronson Williams, John Rodrigues, Shawn Beveney, Jake Newton, Ricky Shakes.
Coach: Jamaal Shabazz, Assistant Coach: Wayne Dover, Manager: Mark Xavier, Physio: Ivan Persaud.
Guatemala 23-man squad from: Gustavo Cabrera (captain), Ricardo Jeez, Dagoberto Arriola, Yony Flores, Carlos Gallardo, Elias Vasquez, Pedro Samayoa, Henry Lopez, Mario Rodriguez, Guillermo Ramirez, Paulo Cesar Motta, Kristian Guzman, Jose Contreras, Manuel Leon, Marco Papa, Dwight Pezzarossi, Bryan Ordonez, Selvin Motta, Mynor Lopez, Jonathan Lopez.
Around the Web