With the Athletics Association of Guyana (AAG) junior Carifta trials just three days away, the acclaimed  event is expected to see a surge of talent from the Rupununi (Region Nine) arriving in Georgetown this Friday.
In a telephone interview with secretary of the Rupununi Athletics and Sports Academy (RASA) Brian Rodrigues, Stabroek Sport learnt that seven athletes are expected to attend the marquee event which is set for March 4th  at the Police Sports Club ground, Eve Leary.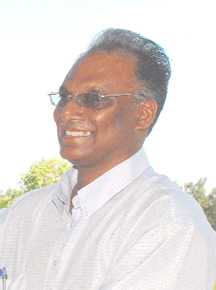 The seven athletes expected to participate in the meet, which is a measure for selection to the  team going to the Carifta Games being held in Bermuda in April, are Fabiano Belle, Samuel Caitan, and Junior Stevens, all of whom will be running the male under-20 1500 and 5000 metres, male under-17 1500 and 5000 metres runner Franklin Park, female under-17 1500 and 3000 metres runner Jemma Pedro, under-20 1500 and 3000 metres female runners Beatrice David and Doretta Wilson.
However, according to Rodrigues, it is still unsure whether Wilson, who has not competed nationally in over a year will be a part of the squad since she lives over 100 miles away from Lethem.
"Getting Doretta is still not confirmed since she lives over 100 miles away from Lethem but I have sent a message to her parents over a month ago," Rodrigues told Stabroek Sport.
Rodrigues, however, did acknowledge that the highly talented Wilson has lost some interest in the sport.
"To be honest I think she has lost interest in the sport because of all the promises that were made to her by the government and it didn't come through, especially when Kumar (Neil Kumar) raised her name in Parliament and nothing happened," Rodrigues said.
Meanwhile Rodrigues also confirmed that although Park is the only athlete in the Rupununi who lives in Lethem while Caitan and David live some 40 miles away, Stevens 36 miles, Belle 26 miles, Pedro 60 miles and Wilson over 100 miles, the team has been doing some training and is  being monitored.
"Well I visit the athletes day-to-day but I have people appointed who are monitoring them because of the varying distance but they have been training since I sent out the message," Rodrigues stated.
Further, Rodrigues believes in the team and expects them to perform well when the AAG's trial runs off this Sunday.
"Well I am expecting good performances from the entire team but I definitely think that David and Caitan will be exceptional," Rodrigues stated during the telephone interview.
Meanwhile the team is expected to leave Lethem on Thursday by bus and is expected to be housed by the AAG.
Around the Web