Coach of Guyana's national football team, better known as the 'Golden Jaguars', Jamaal Shabazz, is  optimistic regarding the efforts of his troops after the team lost their first competitive international for 2012, 2-0, at the hands of Central American side Guatemala at the Providence Stadium  on Wednesday evening.
Speaking to Stabroek Sport after the game and at the team camp at the Signature Inn in Queenstown, Shabazz articulated forcefully that there is a larger picture at stake here and  fans need to realize that despite the significance of beating Caribbean giants Trinidad and Tobago in the second round last November, the team and coaching staff are currently in uncharted territory in the international football landscape.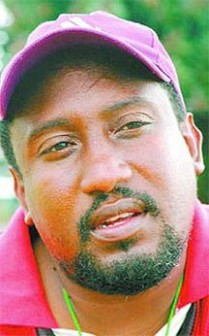 "This is new territory for the players and coaching staff as we begin the journey of trying to take an improving team that is accustomed to playing football at Caribbean level to the World Cup. So people who expect Guyana at this stage to roll over opponents is living in a dream world…" stated Shabazz passionately.
He continued: "Last night, however, was a win for us in some aspects, since it was the first outing for 2012 with a lot of the players that will make up the squad to go to Mexico on June 8th. I thought we held our own for long periods – but we saw areas of deficiencies that we need to address before the qualifiers begin."
Aggression
Then he highlighted three specific points: "We need to raise the level of aggression on the field, at times in the 50/50 situations I thought Guatemala came out on top too often. Overall fitness also needs to improve, our two North American players in captain Chris Nurse and the returning defender John Paul "JP" Rodrigues who was my player-of-the-match – although they played well are currently in off-season. Finally level of organization on field – at this level keeping the shape of the formation so that for example we can catch a striker in the offside trap,  preventing spaces from opening up in mid-field are extremely important," Shabazz explained.
He highlighted further: "So in essence the game answered a lot of questions we had and I look forward to more testing games like this ahead of the qualifiers.
Shabazz also made note of the positive aspects he gathered from the game.
"We were able to create four clear goal-scoring chances. We prevented them from creating any notable chances unless we made silly mistakes which basically was  how they scored those two goals. In general we were not outplayed at all, we held our own for the majority of the 90-plus minutes. The youngsters such as Trayon Bobb, Konata Manning, Colin Nelson were not overawed by the occasion."
The biggest disappointment for coach Shabazz was not any on-field action, but rather the sending off of the team's left-back Walter Moore.
"The biggest disappointment for me was Walter Moore's emotional outburst at the end of the game which resulted in him being sent off. As one of the team's senior players I wasn't pleased by that reaction. However it is a learning experience for him, since at this level the teams will do things to get under your skin and we can't afford for players to lose their cool like that under pressure and get red carded," stated Shabazz.
He also gave his public support to striker Shawn "Bubly" Beveney who had a poor game in which the crowd sarcastically clapped when he was substituted.
"I have tremendous respect for Bev. He gives a 100% all the time and is a player I can depend on to play in multiple positions, so once I am satisfied as to what he can bring to the team I will continue to have him around."
When asked if Beveney's struggles in many ways highlighted how important the recent English-based recruitment  of 34-year-old striker Carl Cort who had over 15 years experience of playing in the top three tiers of English football along with a stint in the England Under-21 was,  Shabazz was careful not to place too much importance on him.
"We don't want to place too much dependency on anyone regardless of how good they are, this is why we are trying to develop a pool of players where we can have two players for every position. I don't want to be in a position like the case was during the qualifiers last year, when captain Nurse was suspended for the Bermuda game and we were left scared since we did not know who to replace him with," Shabazz reasoned.
Mexican and Costa Rican scouts were present at the national stadium on Wednesday and Shabazz stated that Guyana will be doing the same, even if they may not have all the resources of their upcoming rivals.
Finally when asked if he would like to face more teams like Guatemala leading up to the opening third round qualifiers versus Mexico and Costa on June 8th and 12th, Shabazz answered in the affirmative, but cautioned that it would not be that simple.
"I would like to play countries that are stronger than us for sure, but the reality is stronger teams aren't really interested in playing Guyana."
"Getting to play these high quality opponents is very difficult given that world football is highly political, for us to get Guatemala it took some hard manoeuvres from our United States-based sponsor 'Sponsports'. So even if we may have to play weaker Caribbean opposition we should not snub them, that is why I  had that Caribbean tour for the young, local-based players," Shabazz said.
Around the Web