By Emmerson Campbell
There were no surprises when the Guyana Rugby Football Union (GRFU) yesterday selected their team to participate at the upcoming HSBC Sevens World Series tournament in Hong Kong later this month.
As expected, UK-based Christopher Giles, Australia-based Kevin Mc Kenzie and Trinidad and Tobago-based Richard `Staggy'  Staglon and Ronald Mayers all made the cut.
The rest of the team is made up of Captain Ryan Gonsalves, Elwin Chase, Theodore Henry, Claudius Butts, Vallon Adams, Christopher Singh, Rickford Cummings and Walter George..
The reserves will be Dwayne Schroeder, Avery Corbin, Peabo Hamilton, Blaize Bailey and Rondell Hutson.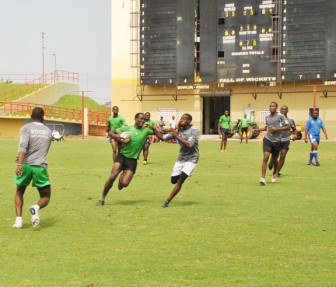 Mayers and Staglon will arrive in Guyana on March 9 to join the team for its final practice before the team's departure from Guyana.
The team will wing out on March 12 for Chula Vista, San Diego where they will be encamped with Rugby USA.
McKenzie and Giles will join the team in San Diego.
The team was selected yesterday after three sets of trail matches at the Providence National Stadium.
Thee HSBC Sevens World Series will be held in Hong Kong from March 23 to 25.
The local ruggers earned a place at the HSBC Sevens World Series after they won their sixth consecutive North America Caribbean Rugby Association (NACRA) title last year November in Barbados by demolishing the Cayman Islands by 29 points to nil.
The team will depart Chula Vista, San Diego, for Hong Kong on March 17
Henry, who is also the head coach, will be assisted by Conrad Arjune. The team will be managed by Mike Mc Cormack while the physiotherapist duties will be assigned to Barrington Browne.
Stabroek Sport spoke with captain Ryan Gonsalves after the practice games and he said that the team had three good practice games and was in high spirits ahead of Hong Kong but they are areas still to be worked on.
"I think we had three good practice games today. It was very good in terms of contact and ball movement, the spirit of the team is very high and every one is anxious to go out there and perform the best they can."
He added:"We will have some more team building to do because we really need to work on our defence. It did show today also our communication needs to improve but we will iron out the wrinkles before Hong Kong," said Gonsalves.
He noted that although some players did not make the team he was optimistic that with their continued improvement they will do so sometime in the near future.
"A lot of youngsters in the team have improved and whoever did not make the team for Hong Kong, guys like Blaize Bailey, Avery Corbin and Rondell McArthur, they definitely have a shot at the 15's coming up and also NACRA in Canada so it is up to them to keep improving to make the team in the future."
President of the GRFU Kit Nascimento, said the selectors had a tough job to select the team but he feels that it was the best and he knows they will do their best.
Said Nascimento:"We selected the best team but it was a very hard decision mind you but the players who will be going to Hong Kong will go their with the determination to win, that is what is important but it is important to understand that we are playing at the highest standard so we must keep that in mind."
McCormack, who is also the Chief Selector and Director of Sevens, echoed Nascimento's sentiments and said that the GRFU feels that the team that was named is the best team they could have picked for the tournament. He also said  that the Hong Kong tournament was  very important to Guyana as it is one of the pathways to qualifying for the 2016 Olympics in Brazil. Hong Kong will also serve as a Qualification Tournament that can possibly make Guyana a Core team.
Players on Core Teams become semi professionals and are paid as semi professionals. Core Teams are also invited and accommodated free of cost to all of the HSBC tournaments.
Around the Web