Twenty-year-old striker Sheldon Holder put on an impressive performance on his debut for his club Neal and Massy Caledonia AIA during the latest round of fixtures in the Trinidad and Tobago Professional League (TTPL) last weekend.
Holder was recently signed to Caledonia club which  already has a strong Guyanese contingent in national left-back Walter Moore, goal-keeper Ronson Williams, defender Colin Nelson and winger Trayon Bobb.
His debut came during Caledonia's 1-0 FA Cup semi-final victory over Winners Connection to clinch a place in the competition final on March 25. Holder, who to date has played five internationals for the Golden Jaguars, ran the full 90 minutes and gained the admiration of the team coach based on his efforts.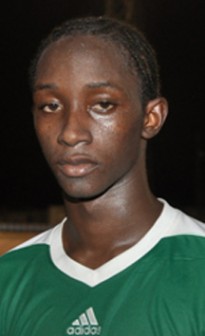 Speaking to the  media Caledonia coach Jerry Moe made a brief comment about Holder.
"Sheldon had a very good first game for us and showed that he can play at this level. He has a bright future, a good attitude and can play with his back to opponents and also run into spaces," said Moe.
Caledonia also defeated St. Ann's Rangers 2-0 in their latest TTPL fixture last Friday, placing them third place on 32 points in the eight-team league.
In other TTPL results involving Guyanese players, the North East Stars duo of Charles Pollard and Kayode McKinnon were powerless as their side slumped to a 4-1 drubbing at the hands of second placed Winners Connection. Finally, T&TEC FC, the club of striker Vurlon Mills, remained on top of the TTPL standing with a 2-1 triumph over Adams Construction San Jaboteh.
Moving on the Golden Jaguars players, plying their trade in the English League – defender Leon Cort side Charlton Athletic continued their dominance in League One (the third division of English football league tier, behind the Championship and the Premier League) with a further victory at the weekend.
Cort was an unused substitute as Charlton remains nine points clear at the top of the table after being held by 18th positioned Scunthorpe 1-1.
Right-winger Ricky Shakes was fully active as his Conference national team Ebbsfleet United won their home fixture against Darlington FC 2-0, to keep them in 14th position for the third consecutive week on 46 points. Versatile left-sided player Chris Bourne was in action as his team Metropolitan Police lost 1-0 to Wealdstone in a game local reports described as a Police outfit were unfortunate not to win. Metropolitan Police are now 12th place in the 22-team Ryam Isthman League table.
National right-back Jake Newton played for English Conference South Division team Havant & Waterlooville, colloquially known as the "Hawks", lost 3-1 to second placed Dartford.
The Hawks held a 1-0 advantage for 80 minutes of this encounter, before some shambolic defending according to match reports saw them concede three goals in the final 10 minutes.
Those performances plummeted the "Hawks" two places to 19th place in the Blue Square South League table.
In conclusion defender John Paul "JP" Rodrigues warmed up for the 2011/12 North American Soccer League (NASL) season where he plies his trade for Tampa Bay Rowdies, by winning the Major Indoor Soccer League (MISL) final with the Milwake Wave side via a 12-10 victory margin over Baltimore Blasts on Sunday evening.
The MISL is the top professional indoor soccer league in North America where this version of futsal is commonly played.
Comments

The Windward Islands Volcanoes booked their place in the final versus the Barbados Pride after beating the Guyana Jagaurs by 52 runs (D/L Method) in the rain affected second day/night semi-final of the Cricket West Indies Regional Super50 on Thursday at the Coolidge Cricket Ground.

Guyana Football Federation (GFF) President Wayne Forde yesterday acknowledged that he is aware of the letter signed by 17 referees demanding the removal of Head of the Referees Department, Stanley Lancaster.
Qwedada Fraser smacked 12 sixes on her way to an unbeaten 88, the highest individual score of the tournament so far, to lead Patentia Secondary to victory over L'Aventure Secondary in the female division of the 27th Annual Easter Term Windball cricket tournament.

Titans Table Tennis Club will serve off their inaugural Banks Smalta Supreme Junior Table Tennis tournament tomorrow morning at 9:00 hrs, at the Queen's College Auditorium, on Camp Road.

East Bank Cricket Association won the Demerara Cricket Board (DCB) Under-17 Inter-Association Tournament after beating West Demerara by 61 runs, yesterday at the Georgetown Cricket Club Ground, Bourda.