DHAKA, (Reuters)- Tamim Iqbal celebrated his 23rd birthday with a half-century and Shakib Al Hasan also made fifty as Bangladesh beat Sri Lanka by five wickets yesterday to get to the Asia Cup final for the first time.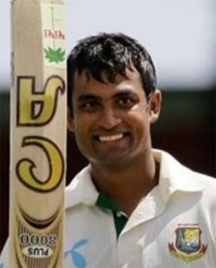 The home side reached their revised target of 212 runs in 40 overs with 17 balls to spare after rain delayed the start of their innings by nearly two hours.
Bangladesh, who earlier dismissed Sri Lanka for 232, will play Pakistan in the final tomorrow, with five-times champions India out of the tournament despite finishing level on points with Bangladesh.
India paid the price for their shock defeat by Bangladesh which sent them out on the teams' head-to-head record.
"I can't understand what my feelings are," said overjoyed man of the match Shakib.
"Of course when I talk to the team mates I will realise what this is. I am very excited, very happy because we don't usually achieve such things," he said.
"We have now defeated the reigning world champions and runners-up, which is a huge achievement for us," added Shakib as thousands celebrated the win on the streets.
"It gives us a lot of confidence, taught us a lot of things. This change will take us a long way," he said.
Nuwan Kulasekara claimed two wickets in his opening spell to help Sri Lanka reduce Bangladesh to 40 for three but Tamim and Shakib added 76 runs for the fourth wicket.
Unheralded off-spinner Sachitra Senanayake, playing his first match of the tournament, briefly threatened to spoil Bangladesh's party when he dismissed both batsmen in the space of four overs.
Tamim gave Senanayake a sharp return catch just after completing his third fifty of the tournament, but the bowler could not grasp it.
Senanayake, however, got his reward for superb bowling when he had Tamim caught by Lahiru Thirimanne for 59 off 57 balls.
Four overs later Shakib fell for 54 to Senanayake, who kept one low and trapped the left-hander lbw.
Nasir Hossain and Mahmudullah continued the Bangladesh momentum, delighting the Sher-e-Bangla crowd which included Bangladesh Prime Minister Sheikh Hasina.
Nasir was unbeaten on 36 and Mahmudullah made 32 not out, the pair adding 77 runs for the sixth wicket.
Earlier fast bowler Nazmul Hossain, playing his first match in the competition, produced a brilliant opening spell which earned him the prized scalps of Mahela Jayawardene (five), Tillakaratne Dilshan (19) and Kumar Sangakkara (six).
Nazmul, who finished with three for 32, was complemented by his opening partner and former skipper Mashrafe Mortaza who gave away just 13 runs in his first spell of six overs.
Chamara Kapugedera (62), Thirimanne (48) and Upul Tharanga (48) boosted Sri Lanka but two wickets each form left-arm spinners Shakib and Abdur Razzak pegged them back.
Jayawardene praised the Bangladesh performance.
"They are hungry for success, which is a good thing," he said.
"So wish them all the best for the final which I know will be against Pakistan who are playing some good cricket too. It will be a good final."
SCOREBOARD
Sri Lanka innings
M. Jayawardene b Nazmul Hossain                                         5
T. Dilshan b Nazmul Hossain                                              19
K. Sangakkara c Nazimuddin b Nazmul Hossain                     6
C. Kapugedera c Shakib Al Hasan b Abdur Razzak              62
L. Thirimanne st Mushfiqur Rahim b Abdur Razzak            48
U. Tharanga c Mushfiqur Rahim b Shahadat Hossain          48
F. Maharoof c Mushfiqur Rahim b Shakib Al Hasan               3
N. Kulasekara lbw b Shakib Al Hasan                                    1
S. Senanayake not out                                                        19
L. Malinga b Mashrafe Mortaza                                                10
S. Lakmal run out                                                                   0
Extras (lb 3 w 8)                                                                    11
Total (all out; 49.5 overs)                                                    232
Fall of wickets: 1-19 2-29 3-32 4-120 5-169 6-175 7-183 8-204 9-230 Bowling: Mashrafe Mortaza 9.5-1-30-1, Nazmul Hossain 8-1-32-3, Shahadat Hossain 8-0-51-1 (w-2), Abdur Razzak 10-0-44-2 (w-2), Shakib Al Hasan 10-1-56-2 (w-3), Mahmudullah 4-0-16-0 (w-1)
Bangladesh innings (revised target 212 in 40 overs)
Tamim Iqbal c Thirimanne b Senanayake                                  59
Nazimuddin b Kulasekara                                                       6
Jahurul Islam c Kapugedera b Lakmal                                       2
Mushfiqur Rahim b Kulasekara                                                  1
Shakib Al Hasan lbw Senanayake                                           56
Nasir Hossain not out                                                                36
Mahmudullah not out                                                             32
Extras (lb-13 w-7)                                                               20
Total (for five wickets; 37.1 overs)                                        212
Did not bat: Abdur Razzak, Mashrafe Mortaza, Shahadat Hossain, Nazmul Hossain Fall of wickets: 1-8 2-39 3-40 4-116 5-135 Bowling: L. Malinga 8-0-29-0 (w-3), N. Kulasekara 6-0-30-2 (w-1), S. Lakmal 7.1-0-44-1 (w-3), S. Senanayake 8-0-38-2, F. Maharoof 6-0-46-0, T. Dilshan 2-0-12-0 Result: Bangladesh beat Sri Lanka by five wickets (D/L method)
Comments

Guyana Amazon Warriors completed a last over four- wicket victory over the Barbados Tridents to keep their chances of qualifying for the playoffs alive in this edition of the Caribbean Premier League (CPL) on the back of opener, Chadwick Walton at the Guyana National Stadium, Providence, last evening.

LONDON, CMC – West Indies part-time off-spinner Kraigg Brathwaite has been reported to the International Cricket Council for having a suspect bowling action, following the Caribbean side's humbling innings and 209-run defeat at Edgbaston here Saturday.

BIRMINGHAM, England,  CMC – Under-fire West Indies captain Jason Holder has urged his players not to lose confidence despite their embarrassing innings defeat inside three days in the day/night opening Test at Edgbaston.
(Reuters) – Spanish fourth seed Garbine Muguruza played flawlessly to crush Simona Halep 6-1 6-0 in a one-sided women's final at the Cincinnati Open yesterday.

Future Stars continued their meteoric rise on the 'street football circuit', defeating Back Circle 1-0 to clinch the 3rd Annual Xtra Beer 'Ballers in the Summer' Street Football Championship on Saturday.