KINGSTOWN, St Vincent,  CMC – Australia captain Shane Watson says West Indies' fighting spirit in the ongoing five-match One-Day International series has not come as a surprise.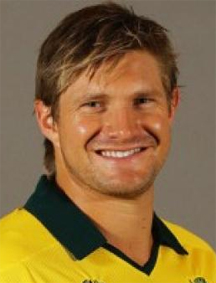 West Indies lost the opening game by 64 runs last Friday but bounced back to win the second by five wickets last Sunday.
Seemingly down for the count in Tuesday's third ODI, the Windies again hit back to come within one run of winning the game, which eventually ended in a dramatic tie.
"I'm not surprised. Not with the amount of talent they've got within their team," Watson pointed out.
"They seem like a really good, tight-knit unit. They're a really impressive fielding unit. The way all the guys move around the field is pretty amazing to watch."
Australia are the top ranked side in ODI cricket while West Indies languish at number eight, only ahead of minnows Bangladesh and Zimbabwe.
Despite the gulf separating the two sides in the international rankings, West Indies have matched the Aussies, especially after overcoming the dismal performance in the first ODI.
Struggling at 117 for six in the third ODI, the hosts staged a valiant recovery to eventually bring the match down to the last over.
Watson was quick to praise the Windies, pointing out that the strong opposition they were providing was good for the series.
"Getting them six (wickets) down we knew we were just a couple of wickets away from being able to finish the game off," Watson noted.
"In the end, there's been some really good cricket played, some really tight games. It's great for the series, no doubt.
He added: "West Indies are playing some really good cricket. It's going to set up a couple of really good games in St Lucia and hopefully we can get up and put a complete game together.'"
The fourth ODI bowls off tomorrow in St Lucia with the final game of the series set for Sunday.
Around the Web