The Berbice Cricket Board (BCB) has partnered with the Neal and Massy Group of Companies to stage the first ever Intermediate Second Division tournament for teams in the Ancient County.
Former Secretary of the Guyana Cricket Board and current Marketing Consultant of the BCB, Bishwa Panday was instrumental in securing the sponsorship which is valued at over $400,000.
The champion team will receive $60,000 and a trophy while the runner-up will collect $30,000 and a trophy.
During the presentation ceremony yesterday, Public Relations Officer of the BCB, Hilbert Foster opened his remarks by thanking Neal and Massy for their contribution and then he  outlined the competition structure.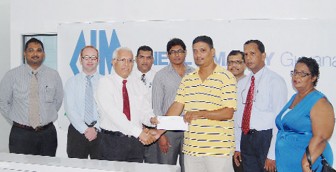 "This intermediate tournament would be for second and first division teams. A total of three or four First Division players would be allowed per team with a special emphasis on the development of our Under-17 and Under-19 cricketers. Teams would be divided into four sub-zones – Upper and Central Corentyne, Lower Corentyne, New Amsterdam/Canje and West Berbice."
Foster also reassured the sponsor that the tournament would be well organized and emphasized that 2012 is potentially a big year for cricket in Berbice.
"2012 promises to be the most exciting in the 73-year history of Berbice cricket. Once the rain stops and the dry season begins cricket clubs in Berbice can look forward to 25 tournaments at all levels and 80 off-the-field activities.
The year is just three months old and yet the BCB has completed over 45 off- the-field activities and we are confident we would not only exceed our target of 80, but would pass the unbelievable mark of 100," Foster said.
Meanwhile Neal and Massy Group of Companies, Chief Executive Officer Deo Persaud said his company is happy to sponsor the competition in Berbice given the company's history of supporting sports and youth development throughout Guyana.
Persaud praised the BCB for its competence during a period of turmoil in the national game and highlighted the company's longstanding history of involvement in  cricket in Guyana since the 1970s.
Around the Web