The Roraima Bikers Club is teaming up with Humphrey's Bakery to pedal off the sixth annual George Cumberbatch Memorial 10-race cycle meet tomorrow at the National Park Circuit.
The event which will commence at 9:00hrs is expected to feature the crème de la crème of Guyana's cyclists and will cater for BMX riders, seniors and veterans.
Cash prizes will be given to the top three finishers in every event except for the feature 30-mile race when the top six finishers will each receive cash prizes.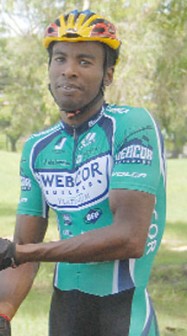 Last year's champion in the 30—mile feature race was Warren '40' McKay.
The lists of events that will pedal off tomorrow are:   9 to 11 years BMX Boys – 2 laps, 12 to 14 years BMX – 2 laps, Open BMX – 4 laps, Juniors/Juveniles – 10 laps, Veterans under 50 years – 5 laps, Veterans over 50 years – 5 laps, Category 1 & 2 – 10 laps, Category 3 & 4 – 10 laps, Mountain/Upright Bikes (Open)- 10 laps and the feature event – Racing Bikes (Open)- 30 laps.
Following tomorrow's activities, the cyclists will take their talents to the open road in Essequibo on Sunday morning to compete in the third and final leg of the Cheddi Jagan Memorial 50-mile road.
Around the Web