DHAKA,  (Reuters) – Pace bowler Aizaz Cheema grabbed three wickets at key moments to help Pakistan beat Bangladesh by two runs in a thrilling final to win the Asia Cup for the second time yesterday.
The home side came agonisingly close to becoming the new Asian champions with nine needed in the final over. However, Cheema conceded only six runs and took a wicket in the process to see his side home.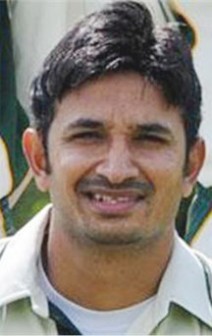 Shahadat Hossain took the strike on the final ball after Cheema bowled Abdur Razzak when a boundary would have done it for Bangladesh. But he could manage just a leg bye as the home side were restricted to 234 for eight in reply to Pakistan's 236 for nine.
Tamim Iqbal scored 60 off 68 balls, his fourth half-century in as many matches in the tournament, and Shakib Al Hassan (68) added 89 runs for the fourth wicket stand with Nasir Hossain (28) to put Bangladesh in control.
Umar Gul broke their resistance, inducing Nasir to hit a catch to Misbah-ul-Haq at mid-wicket and Cheema silenced the roaring Sher-e-Bangla crowd in the next over when he bowled Shakib around his legs.
Skipper Mushfiqur Rahim was caught by Nasir Jamshed on the square-leg boundary off Cheema for 10 then Mashrafe Mortaza struck 18 off eight balls.
Shahid Afridi won the man-of-the-match award after scoring 32 runs off 22 balls and conceding 28 from his 10 overs. Pakistan opener Mohammad Hafeez scored 40 off 87 balls and wicketkeeper Sarfraz Ahmed contributed 46 not out.
"This was a pressure game, the one who has the nerves in control will perform better," Hafeez told reporters.
"The Bangladeshi team, they played really well. They had all the scenarios they were looking for.
"In all the matches they were chasing well. We were very sure that the bowlers in the end could win the game. Umar Gul and Aizaz Cheema really bowled well in the end."
Sarfraz took 19 runs off the final over bowled by Shahadat that finally proved the difference.
Mushfiqur said Shahadat's last over had been the turning point.
"If Shahadat had given 10 less runs in the last over than things could have been different," said Mushfiq, who was in tears in the dressing room.
"I was not weeping for myself but for the fans who backed us so much in the game."
Shakib, who also took two wickets for Bangladesh alongside Mortaza and Razzak, was adjudged the player of the tournament.
Scoreboard
Pakistan beat Bangladesh by two runs.
Pakistan innings
Mohammad Hafeez c Nazmul b Razzak                 40
Nasir Jamshed c Mahmudullah b Mortaza             9
Younis Khan lbw b Nazmul                                           1
Misbah-ul Haq run out                                                 13
Umar Akmal c Rahim b Mahmudullah                  30
Hammad Azam c & b Shakib                                      30
Shahid Afridi c Nasir b Shakib                                  32
Sharfraz Ahmed not out                                              46
Umar Gul c Shakib b Mortaza                                      4
Saeed Ajmal b Razzak                                                     4
Aizaz Cheema not out                                                    9
Extras (b-2 lb-8 nb-4 w-4)                                       18
Total (nine wickets; 50 overs)                             236
Fall of wickets: 1-16 2-19 3-55 4-70 5-129 6-133 7-178 8-199 9-206 Bowling: Mashrafe Mortaza 10-0-48-2 (1w), Nazmul Hossain 8-1-36-1, Abdur Razzak 10-3-26-2 Shahadat Hossain 9-0-63-0 (nb-3 w-2), Shakib Al Hasan 10-1-39-2 (w-1), Mahmudullah 3-0-14-1

Bangladesh innings
Tamim Iqbal c Younis b Gul                               60
Nazimuddin c Younis b Afridi                           16
Jahirul Islam c Younis b Ajmal                           0
Nasir Hossain c Misbah b Gul                            28
Shakib Al Hasan b Cheema                                 68
Mushfiqur Rahim c Jamshed b Cheema        10
Mahmudullah not out                                           17
Mashrafe Mortaza c Jamshed b Ajmal          18
Abdur Razzak b Cheema                                        6
Shahadat Hossain not out                                    0
Extras (lb-5 w-4-nb-2)                                       11
Total (eight wickets; 50 overs)                   234
Did not bat: Nazmul Hossain Fall of wickets: 1-68 2-68 3-81 4-170 5-179 6-190 7-218 8-233
Bowling: Mohammad Hafeez 10-0-30-0 (w-1), Umar Gul 10-2-65-2 (nb-1), Saeed Ajmal 10-2-40-2 (w-1), Shahid Afridi 10-1-28-1(w-1), Aizaz Cheema 7-0-46-3 (nb-1), Hammad Azam 3-0-20-0 (w-1)
Around the Web