Potential London Olympian and joint Junior Sportsman of the Year, Imran 'Magic' Khan along with Stefan Gouveia and Eon Bancroft registered victories in their respective bouts at the invitational box-off competition currently underway in Trinidad and Tobago.
According to reports, Khan fighting in the bantamweight division won the Boxer of the Night citation in his fight with Shakin Garcia, lightweight Gouveia registered his victory over Akil Thomas and middleweight Bancroft won against Lavel Nurse in his fight.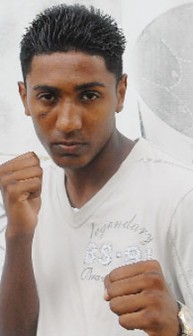 Meanwhile flyweight Richard Williamson lost his bout to Lawrence Singh. Singh turned the tables on Williamson after Williamson had won against him two months ago in Guyana.  Khan also fought Singh in Trinidad on a previous occasion and won.
Other members of the seven-man team, light heavyweight Markember Pierre, welterweight Laured Stewart and junior flyweight Kevin Allicock are yet to enter the ring.
The team which is coached by Carl Franklin and James Walcott left Guyana on Monday and will return on Sunday.
Around the Web