GROS ISLET, St Lucia,  CMC – Big-hitting batsman Kieron Pollard smashed a high octane century as West Indies beat Australia by 42 runs in the fourth One-Day International to take a crucial 2-1 lead in the five-match series here yesterday.
The 24-year-old right-hander slammed 102 from a mere 70 balls, a feisty knock that propelled the Windies to a competitive 294 for seven off 50 overs, after they were sent in at Beausejour Cricket Ground.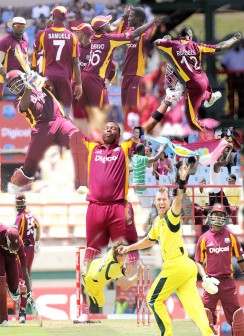 Batting at number six, Pollard smashed five fours and eight typically massive sixes, in an extraordinary display which saw West Indies plunder 117 runs from the last 10 overs of the innings.
Their bowlers, led by the excellent off-spinner Sunil Narine, then restricted Australia to 252 all out off 46.3 overs.
Narine took just one wicket but his 10 overs cost only 24 runs and again, kept the brakes on the Aussie scoring.
Meanwhile, seamers Andre Russell (2-34), captain Darren Sammy (2-42), Dwayne Bravo (2-47) and pacer Kemar Roach (2-74) all claimed two wickets to make inroads at key junctures.
The experienced David Hussey stroked 57 from 54 balls and Brett Lee threatened late on with an imperious 59 from 48 balls but West Indies held their nerve well to put themselves in a strong position to take their first series win over the Aussies in a whopping 17 years.
Pollard's innings, his second ODI century, headlined an outstanding effort from West Indies, with opener Adrian Barath stroking a shot-filled 41 and partner Johnson Charles getting 37.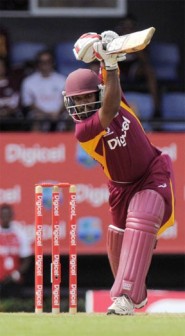 Russell banged 34 from 32 balls while Sammy's cameo 13-ball 31 not out, ensured an explosive end to the innings.
Australia had little answer to the Windies onslaught with medium pacer Shane Watson (2-55), left-arm spinner Xavier Doherty (2-64) and speedster Brett Lee (2-72) struggling to contain the flow of runs.
Barath and Charles put on 56 for the first wicket to give the Windies an enterprising start.
The right-handed Barath, in his first match of the series, hammered nine fours off just 31 balls while Charles was unusually subdued, striking three fours and a six off 62 balls.
Seamer Clint McKay claimed Barath to a catch at the wicket in the 11th over and Marlon Samuels spent 41 balls over 11 before edging Lee behind at 83 for two in the 21st over.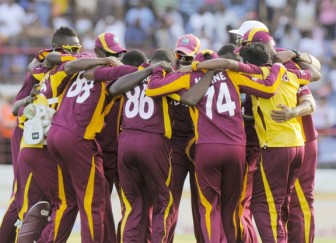 Charles and Darren Bravo (25) had added 23 for the third wicket when disaster struck, as the Windies lost two wickets to successive deliveries in the 26th over.
Charles holed out to long-on off Doherty and off the very next ball, Dwayne Bravo was struck in front and adjudged lbw.
Darren Bravo then added 40 with Pollard for the fifth wicket before driving Watson to David Hussey in the deep.
However, Pollard and Russell picked up the slack, combined in a 94-run, sixth wicket stand that reignited the Windies innings.
Russell hit four fours off just 32 balls but departed after slicing Watson to George Bailey at cover in the 47th over.
Pollard marched on inhibited and reached his century with a hefty blow over mid-wicket off the second ball of the last over bowled by Lee.
Even after he departed, Sammy held no prisoners smashing two sixes and a four off the last three balls, as the over went for 23 runs.
West Indies made a great start when the dangerous David Warner spooned Dwayne Bravo to Narine at mid-on in the second over but Watson (28) and Peter Forrest (24) rebuilt the innings with a second wicket stand of 53 off 42 balls.
Sammy then struck twice in successive overs – Watson sky-ing a catch to Roach at mid-on and Forrest brilliantly caught at third man by Charles – as Australia stumbled to 62 for three in the 11th over.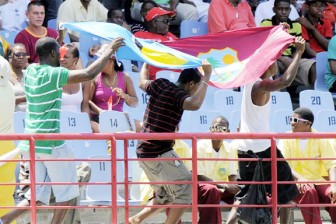 Mike Hussey (26) and George Bailey (25) shared a 49-run, fourth wicket partnership but when Russell removed both in the 21st over, Australia were in trouble again at 112 for five.
David Hussey, who hit seven fours, dominated a 67-run, sixth wicket stand with Matthew Wade (15), keeping the Aussies' hopes alive of a victory.
Wade's slog was held in the deep by Russell in the 34th over before David Hussey was bowled by Roach in the 39th over at 196 for seven, as the Aussies headed towards defeat.
Lee rattled a few nerves with five fours and five sixes – including 24 runs off one Roach over – but he eventually holed out in the deep off the same bowler to hand the Windies victory.
Scoreboard
WEST INDIES
J Charles c Lee b Doherty                               37
A Barath c wkp Wade b McKay                     41
M Samuels c wkp Wade b Lee                        11
DM Bravo c D Hussey b Watson                   25
DJ Bravo lbw b Doherty                                   0
K Pollard c M Hussey b Lee                        102
A Russell c Bailey b Watson                           34
*D Sammy not out                                             31
+C Baugh not out                                                0
Extras (lb3, w10)                                              13
TOTAL (7 wkts, 50 overs)                          294
Did not bat: S Narine, K Roach
Fall of wickets: 1-56 (Barath, 10.1 overs), 2-83 (Samuels, 21), 3-106 (Charles, 25.2), 4-106 (DJ Bravo, 25.3), 5-146 (DM Bravo, 35.4), 6-240 (Russell, 46.2), 7-278 (Pollard, 49.3)
Bowling: Lee 10-0-72-2, Hilfenhaus 10-1-43-0, McKay 10-1-57-1, Watson 10-0-55-2, Doherty 10-1-64 2.
AUSTRALIA
*S Watson c Roach b Sammy                           28
D Warner c Narine b DJ Bravo                           1
P Forrest c Charles b Sammy                           24
G Bailey c wkp Baugh b Russell                       25
M Hussey c wkp Baugh b Russell                   26
DJ Hussey b Roach                                             57
+M Wade c Russell b Pollard                          16
B Lee c (sub) Mathurin b Roach                   59
C McKay c Pollard b DJ Bravo                         2
X Doherty c Sammy b Narine                          1
B Hilfenhaus not out                                           0
Extras (lb1, w11, nb2)                                       14
TOTAL (all out, 46.3 overs)                     252
Fall of wickets: 1-3 (Warner, 1.1 overs), 2-56 (Watson, 8.1), 3-62 (Forrest, 10.1), 4-111 (Bailey, 20.1), 5-112 (M Hussey, 20.3), 6-179 (Wade, 34), 7-196 (D Hussey, 38.4), 8-235 (McKay, 43.4), 9-250 (Doherty, 45.3), 10-252 (Lee, 46.3)
Bowling: Roach 9.3-0-74-2, DJ Bravo 6-0-47-2, Narine 10-0-21-1, Sammy 9-0-42-2, Russell 7-0-34-2, Samuels 3-0-17-0, Pollard 2-0-16-1.
Result: West Indies won by 42 runs.
Series: West Indies won by 2-1.
Man-of-the-Match: Kieron Pollard.
Toss: Australia.
Umpires: Gregory Brathwaite, Shavir Tarapore (India); TV – Kumar Dharmasena (Sri Lanka).
Around the Web