Guyana's sprint queen Alisha Fortune made her debut run for the 2012 season yesterday producing a phenomenal 11.6s performance to blow away a field consisting of mainly juniors at the Guyana Defence Force ground, Camp Ayanganna.
Rust was evident in Fortune's run as she struggled out of the blocks at the second developmental meet which was organized by the Guyana Defence Force (GDF).
The 37-year-old recovered quickly to catch Carifta selectee Letitia Myles who was leading at the 50 metre mark, before pulling away to reinforce her supremacy. Myles was second in 11.9s and Alita Moore third in 12.1s.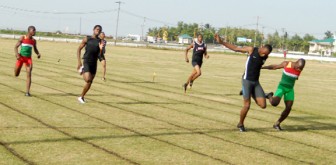 Myles returned later in the day to run away with the female 200 metres running a beautiful curve to finish in a time of 24.3s. Tiffany Carto ran a good race but finished second in 24.8s while Natreena Hooper was third in 25.1s.
Chavez Ageday, another Carifta team selectee, was also in tip-top shape as he blasted his way to yet another season best performance and victory this time outdoing his senior opponents in a time of 10.2s in the men's 100 metres final.
GDF's Akeem Stewart and Jermaine Newton were second and third in times of 10.4s and 10.6s respectively.
Carifta selectee Stephan James blew away the field in the 400 metres men, winning by approximately five metres as he crossed the line in 50.3s while Shawn Semple struggled home to finish second in 52.9s and Selwyn Fraser, third in 54.3s.
Two-time 1500 metres Carifta gold medalist Jevina Straker dipped under the five-minute mark for the first time in over a year as she clocked 4:56.6s to out run her competition by a large margin.
Carifta Games selectee Andrea Foster was a distant second in a time of 5:04.2s.
In the absence of Trevon George, Devaughn Barrington and Nathaniel Giddings, Kevin Bailey staged somewhat of an upset by hammering GDF's Tyshon Bentick to a lopsided defeat winning in 4:18.6s while Bentick clocked 4:22.7s.
Patrick King brought some life to the male unit of the GDF camp, by topping his club mate Stewart in a one-two finish in the men's 200 metres final.
It was a deadlock between the two club mates up until Patrick went slight ahead with five metres to go in the race.
The women's 400 metres saw Running Braves Athletic Club Natrena Hooper and Natricia Hooper capturing first and second in times of 1:00.1s and 1:01.4s while GDF's Tiffany Smith was third in a time of 1:01.9s.
In field event action, Julio Sinclair threw away the discus with a distance of 39.49 metres while Lawanda Whaul was equally as impressive when she threw 29.51 metres in the women's version of the event.
Ryan Scot claimed the men's triple jump with a distance of 13.27m while Juanita Hooper leapt to first place with a jump of 10.94 metres.
To top off the day's events, the four Carifta male sprinters formed a 4×100 metres team that outclassed a field of eight defeating a depleted Police (2nd) and GDF (3rd) team, to win in a time of 42.5s. The male Carifta team consisted of Tevin Garraway, James, Davin Fraser and Ageday.
The female Carifta team was equally as impressive as they led for the first two legs before Tirana Mitchell accelerated to propel the team into first on the final left after they lost the lead on the third leg. The female Carifta team which consisted of Letitia Myles, Shomaine Daniels, Adrea Foster and Mitchell clocked  at 51.1s.
The Athletics Association of Guyana (AAG) will stage a third developmental meet this Sunday at the Mackenzie Sports Club ground.
Around the Web