Linden's Shane Webster had 21 points Saturday evening as Linden came out victorious over Georgetown at the Cliff Anderson Sports Hall (CASH) in the Kelvin Lawrence memorial basketball game.
Both teams started out playing scrubby basketball committing a lot of turnovers in the early minutes of the game.
However, Linden's strategy of feeding the ball in thelow post while playing hard zone defence allowed them to gain a two point advantage going into the second quarter with the first ending 11-9.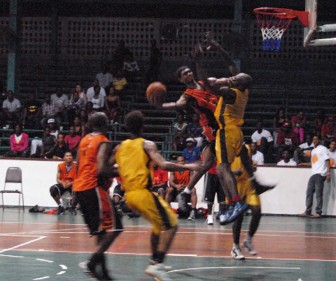 Linden continued its strategy of feeding the low post player and committed fewer turnovers in the second quarter.
Georgetown, on the other hand, continued to look like a sloppy unit, committing turnovers while playing selfish basketball that saw Linden's lead increasing to 28-21 at halftime.
Heading into the third quarter, Linden's offence started to gain momentum.
Not only did they have a large advantage in the post but their players started knocking down runners and mid range jump shots with the occasional three pointer.
Georgetown players in the meantime looked frustrated and disjointed as they allowed Linden's halftime lead of seven points to balloon to 16 points at the end of the third quarter which ended with the score on 47-31.
Linden's lead jumped to 20 points early in the  fourth quarter before the Georgetown players  suddenly switched gears.
Led by Travis 'Flash' Burnett, who started to seem like Valued Added Tax (VAT) on the Linden players with his stifling defence and penetrative isolation plays and Akeem 'The Dream' Khanhai who got into his stride by hitting difficult shots for three point plays, Georgetown played like a team possessed and gradually chipped away at the lead bringing it down to a three point game with 1:29s left.
With the previously disgruntled crowd now fully behind the home team and the lead at five with 59.1s to play, Linden hit a dagger of a three pointer to send the lead to eight with 26.8s left in the game.
The shot proved to be the game winner.
Linden finally closed the game out  65-57 to the delight of their supporters.
Burnett finished with 10 points for Georgetown while Kanhai ended his night with 12 points for the team high.
Linden's three point bomber Chris Williams finished with 12 points while Orin Rose who hit the clutch three in the final seconds for Linden finished with 14 points.
Earlier in the night, Guyana Revenue Authority (GRA) downed Qualfon in a pre-game match-up 71-65.
Clement Brusch had 14 points to lead GRA to the win while his teammate Damian Liverpool scored 11 points.
Shawn Hanes's 21 points were not enough for  Qualfon.
At the presentation ceremony held immediately after the game the teams were presented with their winning trophies in memory of Lawrence who died from injuries sustained from a car crash in Suriname in 2010.
Around the Web