ORLANDO, Florida,  (Reuters) – Tiger Woods ended his two and a half year drought on the PGA Tour when he won the Arnold Palmer Invitational by five strokes yesterday, sending a warning signal to his rivals ahead of next month's Masters.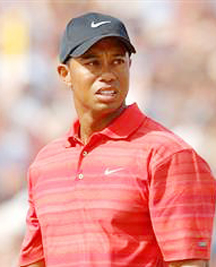 The former world number one shot a final round 70 to finish at 13-under-par at the Bay Hill course where had won six times before.
The American claimed his 72nd PGA Tour title and his first since the BMW Championship in Sept. 2009.
"It does feel good. It feels really good. It has been a lot of hard work," Woods said.
"I am so thankful for a lot of people helping me along the way, they know who they are."
Northern Ireland's Graeme McDowell, the 2010 U.S. Open champion, finished second, five shots behind Woods, after starting the final round a shot in arrears.
The win was the first for Woods since the very public breakdown of his marriage after sordid details of his affairs were revealed.
It was also the first victory for Woods since the rebuilding of his swing by coach Sean Foley and comes just two weeks after he limped out of a PGA event at Doral, raising doubts about his fitness for the Masters.
Around the Web