By Emmerson Campbell
Rising boxing star and potential London Olympian, Imran 'Magic' Khan continued his successful march to the London Olympics after he recorded two impressive victories in his two bouts at the recently completed invitational boxing tournament in Trinidad and Tobago.
Khan, 19, who is also the reigning joint Junior Sportsman of the Year, copped the Best Boxer award and a gold medal after he recorded one-sided victories over Trinidadian Shakin Garcia at the week-long tournament which ended on Saturday night.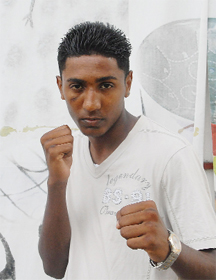 During a telephone interview with Stabroek Sport yesterday, the bantamweight pugilist who returned from his International Boxing Association (AIBA) training camp stint in Cardiff, Wales earlier this month said that he used his improved defence, jabs and power punches to secure his victories.
Stephan Gouveia and Eon Bancroft also recorded victories on the opening night.
Junior Flyweight Kevin Allicock, Flyweight Richard Williamson, Welterweight Laured Stewart and Light heavyweight Markember Pierre were not as fortunate as they lost their matchups, all on points.
Khan intimated that the Guyanese public may see him fight for the first time this year, possibly next month-end on the Guyana Boxing Board of Control (GBBC) Pro Am card to keep him sharp for the London Olympic qualifiers in Rio de Janeiro in May.
Khan, the six other boxers, referee/judge Keith Campbell, team trainers James Walcott and Carl Franklin and team manager, Dexter Patterson returned to Guyana on Sunday night.
Around the Web