Hikers Boys, Georgetown Cricket Club Girls and Marian Academy won their respective categories last weekend at the Hikers Annual Junior Indoor Festival at the National Gymnasium.
With most of the junior national players on show, Hikers Boys won the James Service Centre Under-16 tournament with a 3-2 victory over GCC in the decisive game after both teams played unbeaten in the preliminary competition.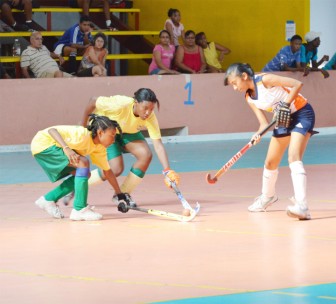 Old Fort 'A' defeated St. Stanislaus College 2-1 to capture third place while Old Fort 'B' got the better of their 'C' team 2-0 to secure fifth place.
GCC girls proved to be in a class of their own in capturing the James Service Station Girls title with victories over Hikers and St. Stanislaus girls in the three-way competition.
In the Western Union sponsored Under-13 competition Saturday, Marian Academy 'A' ended the group stage with the maximum 15 points while scoring 15 goals and only conceded five.
They defeated Hikers 3-2 in the semi-finals and then claimed the title with a 1-0 win over last year's champions Old Fort.
GCC and Hikers tied at full time in the third place playoff forcing the match into a penalty shootout.
The match winning penalty was scored by Akeem McDonald for Hikers who secured the third spot.
Saints defeated Marian Academy 'B' for fifth place with a 1-0 win.
Several senior hockey players said that the tournament produced a high quality of play which is essential to the future development of hockey locally.
The presentation of prizes followed the finals on Sunday.
Around the Web