By Emmerson Campbell
Three-time 83kg men's Caribbean Championships
Powerlifting Gold Medalist Randolph 'The Accomplisher' Morgan is brimming with confidence and is pushing the envelope ahead of the 6th annual Caribbean Powerlifting Championships scheduled for St Thomas, U.S. Virgin Islands over the weekend.
"I'm looking to attempt the world record in the dead lift, that's like 761 pounds, in the bench press I'm looking to press upwards of 520 pounds, I never squatted over 700 pounds yet , but I'm sharpening my mind to squat over 705 pounds over there – I'm hoping for that."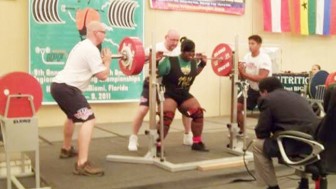 Female sports personality for 2011, powerlifting queen Dawn Barker yesterday was just as confident and determined when Stabroek Sport caught up with the duo for exclusive interviews before they wing out tomorrow.
Morgan disclosed that he is always in shape but began fine tuning his craft two weeks ago and despite not lifting his projected poundage in training, he is quite confident that on the day of competition, he will achieve his goals.
"I was always in the gym. I don't ever stop training but really started to focus on getting the weights, fine tuning and sharpening my training like two weeks ago."
Morgan added: "In gym I bench press 475 (pounds) dead lift  585 (pounds) for like four reps  and I squat 645 (pounds) but to be honest with you I don't really push myself in training, competition day is when  my adrenaline is really up and  pumping."
The 35-year old Guyana Police Force Corporal said he is confident of claiming his fourth consecutive Caribbean Championships title because he has improved from last year.
"Being a champion I'm confident that I can claim it for the fourth time because I know I have been working to maintain such a standard and I think my standard has been elevated to where it is presently and I'm very confident of retaining the title," said Morgan.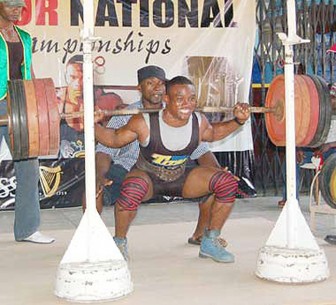 Barker competed in the 84+kg division and won a gold medal at the fifth International Powerlifting/ North American Powerlifting Federation Championships in the Cayman Islands as well as the best lifter award last year.
The 31-year old Watooka Nursery School teacher established new records in July at the NAPF Championships in Miami, Florida where she performed a squat of 237.5kg (522 pounds) and a dead lift of 192.5kg (423.5 pounds).
Those lifts  are all Commonwealth records, records she plans on breaking this weekend.
Said Barker: "I was preparing for this tournament since January and I'm confident in myself although I'm a bit nervous. My goal is to squat 550 pounds, bench press 250 pounds and dead lift 450 pounds."
Barker disclosed she is currently squatting, bench pressing and dead lifting 530 pounds, 250 pounds and 400 pounds respectively.
During the interview, Barker thanked the executives of the Republic Bank branch in Linden, proprietors of the Library Three Disco, her husband and family members as well as her gym mates from the Upper Demerara Barbell Club for their continuing support and encouragement.
The 'Accomplisher' praised the efforts of his major sponsor Jamie and Angelina McDonald of Fitness Express for their exclusive sponsorship of his airfare and supplements. He also thanked Guy Enterprise, Dennis and Lisa Insanally of Mojo's Night Club, Terrence Adams and Colonel Lennox Wilson.
Barker and Morgan will be part of a contingent that is scheduled to include 53kg national sub-junior champion Gumendra Shewdas, his brother 59kg sub-junior champion Suraj Shewdas, 2010 59kg Caribbean junior champion Vijai Rahim, 2010 CAC 74kg champion Winston Stoby,  2010 Caribbean junior champion Anis-Ade Thomas, national open runner-up in the 83kg division Germaine Snagg, 2011 105kg Caribbean champion Karel Mars, last year's 120kg national open champion Colin Chesney and national lifter in the 84kg division Kimberley Mars-Loncke.
Around the Web