All 10 members of the Athletics Association of Guyana (AAG) Carifta Games team were yesterday granted visas to enable them to participate in the April 7- 9 Games in Bermuda.
However the AAG still faces the financial hurdle of being unable to send the full team to the 41st staging of the games.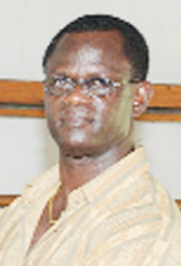 According to president of the AAG, Colin Boyce, they have raised enough funds to send either three or four athletes to the games depending on when they buy the tickets.
At present the cost per ticket is G$400,000 per person.
"Well, so far we have raised enough funds to send probably four athletes to the games," Boyce told Stabroek Sport yesterday.
'The closer to the date we take to buy the tickets the higher the price will be and this is because we have to go through JFK Airport to get to Bermuda," Boyce added.
However, priority will be placed on getting the five athletes who made the times to participate in the games.
The five who have made the times are Stephan James, Chavez Ageday, Timothy Fullington, Tevin Garraway and Davin Fraser.
The other five athletes Letitia Myles, Samuel Catian, Andrea Foster, Shomain Daniels and Tirana Mitchell narrowly missed making the qualifying times and might be forced to miss out on the games if there is no positive response to the appeal letter to government for approximately $2.9 million to send the rest of team to participate.
Caitan, though, should make the trip as he will be exclusively sponsored by the Guyana Olympic Association (GOA).
It was also suggested that the Guyana Defence Force is willing to assist Myles with the exclusion of her airfare.
"It's basically working out the various connections to get there and hopefully everything works out for the team but we will give every effort to ensure the whole team arrives in Berumda," Boyce said.
He also indicated that it was important to get the athletes to the games given their recent performances so as to increase their chances at qualifying for the World Junior Games.
"This is an opportunity for them as well to qualify for the World Juniors so I hope the government would give us the response we need to give these athletes a chance to participate," Boyce reiterated.
Boyce said that he expected a response from the government later today or tomorrow.
He also said he hoped that the business community can come on board to give the athletes a chance to make the nation proud.
Around the Web