(Reuters) – The Denver Nuggets, the NBA's top scoring team, refused to be slowed by stingy Chicago as they attacked relentlessly to secure a 108-91 road victory over the league-leading Bulls on Monday.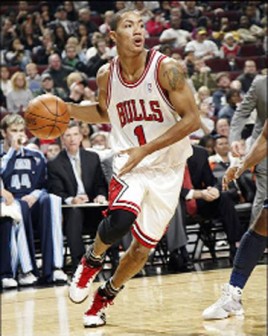 Ty Lawson led the charge with 27 points and nine rebounds and Arron Afflalo added 22 to give the Nuggets (27-23) a much-needed win in the third of their seven-game road trip.
The triumph kept Denver level with Utah and Houston for the seventh best record in the tight West race.
East leaders Chicago, on the other hand, remained 3 1/2-games in front of Miami, who also lost on Monday.
Averaging more than 103 points per game entering the night, Denver broke loose from the Bulls in the third quarter where they outscored Chicago 27-16 to take control.
Playing with dizzying pace, the Nuggets were able to score 54 points inside the paint against one of the league's top defenses as they turned a two-point halftime lead into a romp.
"This was not our type of game. It was up and down, free and easy," Chicago coach Tom Thibodeau told reporters.
"We let our guard down and you can't do that."
The Bulls had been thriving in the absence of Derrick Rose, who missed his seventh straight game with a groin injury, but lacked firepower.
Reserve point guards C.J. Watson, starting in Rose's absence, and John Lucas each had 17 points to lead the Bulls (40-11), who saw their four-game winning streak come to an end.
Chicago have a 12-5 record without Rose this season. They have dealt with a list of ailments throughout the campaign and are still missing starting shooting guard Richard Hamilton.
Denver was sparked early by Afflalo, who scored 11 first-quarter points in his first game back after being suspended one game for throwing an elbow at Utah's Gordon Hayward on Friday.
The visitors also flashed a little defense in forcing the Bulls into 15 turnovers.
"I think individually we all take pride in guarding our man, but we just had to become a better defensive team, helping each other and communicating," Lawson said.
Around the Web