By Neil Barry
In an absorbing weekend of cricket with surprisingly persistent good weather, three teams managed to upset their relatively stronger oppositions to register victories in matches all played along Woolford Avenue Georgetown. Most notable of those victories was the University of Guyana's 10-wicket win over the Guyana Defence Force.
On the back of a belligerent knock of 167 from newly-appointed captain Damian Vantull, the University amassed 9 for 322 in reply to GDF's 6 for 240 declared with the next highest score coming from wicket-keeper Clevon Hyman (37).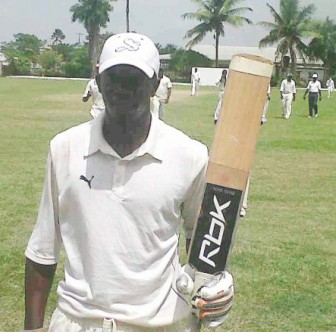 Dennis Legay collected 4 for 59.
At one point GDF's declaration seemed enough to force a victory with the University on 6 for 140 at the end of the first day but good hitting on the small GYO ground allowed the University to amass a lead of 83. Batting first GDF's score was boosted by Terry Fraser (81) and Jeremiah Harris (78).
Stephon Josiah grabbed 3 for 48.
In GDF's second turn at the crease, they were bowled out for 119 with  Amir Khan making 48.
Vantull took 4 for 31 from 7 overs and Dennis Heywood 3 for 16 from 6.5 overs of off spin. UG reached their target of 33 in just 4.4 overs without losing a wicket.
In another upset, this time at the Muslim Youth Organization cricket ground, Ace Warriors defeated Everest Cricket Club by 29 runs in a low-scoring match. Batting first Ace Warriors made 129 with Rawle Enmore scoring 56.
Christopher Surat took 3 for 24 and Javid Rasheed 3 for 27. Everest fell three runs short in reply with Surat's 28 being the top score. In their second innings, Ace Warriors made 154 all out.
Enmore once again contributed with the bat scoring 41. He received support from Delon Azores 33. Surat's 5 for 40 went in vain as Everest, requiring 157 for victory, were bowled out for 128 with Mortland Warde taking 4-30 for the winning team.
Directly opposite the Muslim Youth Organization (MYO) Police Sports Club defeated a young GCC side, successfully chased 224 in 32 overs and  registered victory off the last ball of the day's play. Their chase was boosted by Stephen Lewis (80), Dwayne McPherson (32 not out), Rawle Haynes (54) and Fitzroy Culley (25 not out).  Batting first GCC, on the back of 91 from Ray Ramkissoon and 44 from Almando Doman, scored 198 all out. Bowling for Police, Kelvin Leith took 3 for 26 from 11 overs and Rawle Haynes 3 for 26 from seven overs. Police, in reply, scored 170 with Lewis and McPherson both making 45 as Almando Doman grabbed 7 for 56. In their second innings GCC were bowled out for 195 with Shane Graham (44) being the principal scorer, ably supported by Ramkissoon (41).
Stephen Lewis grabbed 5 for 59 from 12 overs to set up the chase.
Police also recorded a nine-wicket victory against Third Class the previous weekend in just one day at YMCA. In a low scoring game Third Class batted first and were bowled out for 71 with Rawle Haynes taking 5 for 6 and Latchman Persaud 4 for 10. Police were then dismissed   for just 74 as Alvin Castello took 7 for 17. Third Class in reply could only make 100 as Latchman Persaud was again among the wickets, taking 5 for 37 and Kelvin Leitch, 4 for 39. Police reached the 98 required for victory in just 12 overs with just the loss of Stephen Blacks  wicket. He made 38. Stephen Lewis remained not out on an even 50.
Around the Web