It's just 72 days before Guyana's Golden Jaguars kick of their opening third round match of 2014 World Cup Qualifiers against CONCACAF powerhouses Mexico at the world famous Estadio Azteca (venue of the 1970 and 1986 FIFA World Cup finals).
Over the next few months the team under the guidance of Trinidad coach Jamaal Shabaaz will continue its preparation via the various FIFA-sanctioned international friendlies against opposition like Guatemala which defeated the home side 2-0 at Providence Stadium on February 29.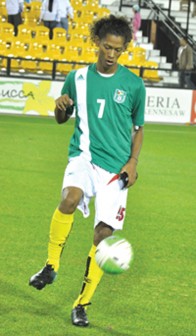 There will also be other fixtures under the "Two-Tier" system being employed by the national coaching staff which entails a Caribbean tour.
Under this system, local-based young players, who are not regulars in the starting XI, have been getting an opportunity to showcase their talents and push for promotion to the starting ranks.
One such player is Brandon Beresford.
The 19-year-old midfielder stood out recently in matches against French Guiana scoring his first international goal for the Golden Jaguars.
Assistant coach Wayne Dover, who deputised on that trip for Shabazz, singled out Beresford who was making his first appearance for the national side since late 2010 for his performance in the final game which Guyana won 2-0 with Beresford being one of the goal scorers.
Stabroek Sport (SS) got in touch with Beresford via e-mail and a telephone interview from his residence in the United States and he reflected on his return to the national team and spoke a bit about himself also.
CB:You first played for Guyana way back in 2010 but haven't featured since. Other than your college commitments at Graceland University, what were the main reasons for your absence from the national side?
BB: School has been a huge part of my lack of participation with the national team. I did participate with the group last year which was a mix of senior players and U23 players against Barbados and was a part of the Olympic squad that went to Cuba for the Olympic qualifying games. I have since been called on a couple times to play but they were times during my school team's scheduled season and periods in which I could not be released from school. I am very thankful that Coach Shabazz and the GFF have been very understanding about my college commitments and have worked with me to maximize my chances with the senior team.
CB: Before you made your debut in 2010 what made you decide to take up the opportunity to play for the Golden Jaguars?
BB: It was an opportunity that my father had found out about when Guyana had come to Atlanta to play Guatemala and to play at the international level is a great way to gain experience so that I could help myself achieve my goal of playing football professionally.
CB: Have you been following the team's progress especially during the last year when they created history by defeating Trinidad and Tobago to qualify for third of 2014 World Cup qualifiers?
BB: Yes, I have! I was invited to play with the team but, because school is a priority in my life right now, I was unable to participate. It is very exciting to have the chance to be a part of the team that is going to be in the third round of the World Cup Qualifiers, especially since it is the first time Guyana has made it this far.
CB: By all reports you scored a great goal against  French Guiana during the 2-0 victory, how did that feel?
BB: When you can score a goal and have everyone celebrate with you is an amazing experience. The fans and the players on the bench were also involved so I was just feeling really good. With that being said, it was my first senior team goal at the international level, so it was a very exciting experience.
CB: What would you say is your strongest asset as a mid-fielder?
BB: As a central midfielder I believe that I have good vision, and good distribution. I feel as if sometimes there are plays that I could see developing and feel confident enough in myself to make a precise pass, with either foot.
CB: Do you have any ambition to one day play at a  high level in the United States football leagues such as Major League Soccer (MLS) or the North American Soccer League (NASL)?
BB: My goal with football is to play at the highest level possible in Europe, but if an MLS or NASL team were to offer me something I would definitely consider it.
CB: Who are some of your football heroes?
BB: My favorite player of all time is the Brazilian striker Ronaldo. I grew up with an intense passion for watching Brazil play and fell in love with their style. But in recent years I have become a huge fan of Barcelona, ever since Ronaldinho was there. I now look up to their central midfielders Xavi and Iniesta, and I try to analyze how they control the game for their team.
CB: Give the Guyanese public a short synopsis of your football upbringing.
BB:I have been playing football since I was three years old. My father says I was kicking the ball before I could even walk. With both of my parents being Guyanese, football was probably the only path of sport I could take growing up in America. What got me into football was my father, I believe. I would always watch games with him and learn as much as I could from him. He has a love and passion for the game that he has given to me. He has also been involved in helping support the football in Guyana and is an assistant coach with the U17 Lady Jaguars. I am glad that I have been as successful as I have been, and hope to continue that success.
Around the Web