The Berbice Cricket Board/Hand-in-Hand limited overs cricket competition in West Berbice got off to an exciting start with five matches  played across grounds in Region Five.
The tournament, which is sponsored by the Hand-in-Hand Group of Companies, is part of an  effort by the Berbice Cricket Board (BCB) to  develop the game in neglected areas.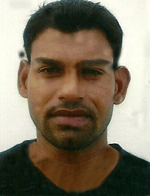 Promising 14-year-old off spinner Akeem Miller  impressed with figures of 6/23 off seven overs playing for Blairmont against Cotton Tree Die Hard.
Results in the matches played:
At Cotton Tree Ground, the home team Cotton Tree Die Hard defeated Blairmont "B" by a massive 160 runs.
Batting first, Cotton Tree Die Hard  scored 223 in 30.2 overs with Taj Singh 51 (3×4, 4×6) and Jagdeo Persaud 32 (4×4, 1×6) the principal scorers.
Miller 6 for 23 and Marcus France 2 for 58 were the main wicket takers for Blairmont "B" who, in reply was dismissed for 63.
Only Arfan Khan 31 offered resistance to off spinners Nashad Gafoor 4 for 24 and Roshan Gafoor 4 for 11.
At Shieldstown, the home team defeated Woodley Park Number 11 by four runs. Batting first Shieldstown was dismissed for 138 in 30.3 overs.
Heeralall Bridgelall top scored with 30 while  Aftab Ghanie made 29.
J. Nurse took 2 for 24 for Woodley Park who  replied with 130 all out in 33.2 overs.
S. Beharry 39 and D. Bridgelall 20 were the leading batters. Bowling for the home team  Ghanie grabbed 3 for 15.
Playing at Bush Lot, the home team squeezed past Sundown of Cotton Tree by three runs but face a protest as the losers are appealing the match. Sundown is claiming that Bush Lot Challengers played three first-division players instead of one.
Scores: Bush Lot Challengers – 128 runs in 28 overs. Angelo Sukhall 28, A. Mathadeck 21.
Sundown – 125 in 29.2 overs. Parmanand Singh 36, S. Rahaman 29, Angela Sukhall 3 for 20, Asif Khan 2 for 20.
At the Hopetown Ground, Hopetown United defeated a young No. 7 Silver Park team by nine wickets after bowling them out for a meagre 38 runs. Emerson Benjamin had bowling figures of 6 wickets for 14 runs and Steffon Adams 2 for 7.
Joshua Oswin was the only batsman to reach double figure with 11. Hopetown United reached 39 for 1 in 5.1 overs with J. Adams 21 and C. Paul 16.
No. 4 Cricket Club created the first major upset when they defeated Achievers by eight wickets at the Lovely Lass Ground. Batting first, Achievers were bowled out for 90 in 25.4 overs with Kurt Griffith 17, Quacy Mc Pherson 13 and Grisean Grant 16 being the top scorers. S. Asgar 4 for 17 and A. Johnson 3 for 23 were the main wicket takers for No. 4 Cricket Club. Asgar returned with the bat to score 30 not out and together with Derek Misir 28 not out guided No. 4 Cricket Club to 91 for 2 in 15 overs.
The tournament continues this weekend.
Around the Web