By Emmerson Campbell
"I thought Guyana did extraordinarily well given that it was their first time in the Hong Kong Sevens World Series; this was the first time they competed with the top 24 teams in the world."
This is the assessment made by president of the Guyana Rugby Football Union (GRFU) Kit Nascimento yesterday at the Guyana Olympic Association (GOA) building during the customary GRFU media briefing after each tournament.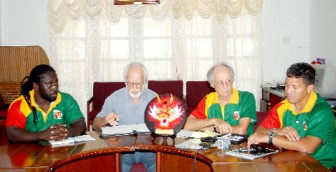 Nascimento noted that despite Guyana losing four out of their five games at the three-day Cathay Pacific/HSBC Sevens World Series which ended in Hong Kong on Sunday, the team has indeed improved.
When Guyana debuted on the international scene two years ago and played against teams like France and Australia they suffered heavy defeats, sometimes being defeated by as much as 60 points.
On the first day of competition, Guyana went down 19 to nil against Pool F foes Portugal; on day two in their first game against Russia, the Jaguars squandered a 10-nil lead and were eventually defeated 14 to 12.
In their second game of day two, the local ruggers lost to Japan 38 to 5.
On day three, Guyana recorded a seven to five victory over China, and lost 31 to nil to Uruguay later in the day.
The GRFU boss stated that the local ruggers have advanced and raised their level of rugby and they are looking forward to the future of rugby in Guyana.
Also speaking at the media briefing was GRFU Chairman of Selectors Mike McCormack who said that Guyana learned a lot of lessons from attending the Hong Kong tournament.
McCormack stated  that Guyana has a right to be on the international scene as the team displayed a high sense of confidence and flashes of brilliance.
He added that the locals learned from world-ranked teams by simply sharing dressing rooms, teams like France and eventual Cup winner Fiji.
McCormack highlighted that the Guyana team gained knowledge about game preparation, game play tactics, warm down techniques and also about post game replenishing beverages.
Finally, he said, having success at the international level requires that rugby has a foundation with players coming through the ranks from tender ages.
Team Captain Ryan Gonsalves, speaking on behalf of his team said, "It was unfortunate that we had only one victory but we take the win as a huge step forward. It is a long year with a lot of rugby and we are looking forward to it."
Player/coach Theodore Henry assessed that Guyana had a lot of unforced errors and also pressure situation errors which resulted in the opposition taking full advantage. He stressed that as the tournament progressed, the local players learned from their errors but  were still overwhelmed by the more experienced opposition.
Henry disclosed that throughout the tournament they were commended on their performances.
Said Henry:
"The Spanish coach personally came up to me and commended us on our performance and also gave some pointers on how to improve, he even reminded me that Spain was once at this level when they first entered the tournament."