Eight-year-old Shomari Wiltshire played with the skill and court sense of a seasoned campaigner in defeating Mahendra Khusial on the opening night of the Toucan Industries sponsored Kool-Aid squash tournament at the Georgetown Club Tuesday.
According to a press release, Wiltshire, son of former three-time Southern Caribbean squash champion Garfield Wiltshire, displayed "an exquisite assortment of superbly placed shots to dispose of Khusial."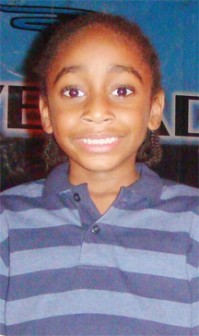 Wiltshire won 11/9, 10/12, 11/3, 11/7 in their  category D encounter.
According to the release, Wiltshire, showed that he had inherited more than just a reputable squash last name in turning back the challenge of relative newcomer Khusial.
What Wiltshire lacked in height the diminutive star made up for in power and sueperb shot selection which reduced the  14-year-old Khusial to a mere onlooker at times.
"Wiltshire's front court game was as lethal as it was impressive with drop shots that were nearly impossible to retrieve," the release noted.
"What was even more remarkable was his technical knowledge of the rules of the game. Shomari's 'let' appeals to the referee when he did not have a clear view of the ball or when Khusial obstructed his chances of retrieving the ball, were on point," the release added.
Wiltshire will face Matthew Phang in his next match this  evening while his sisters, Caribbean Under-15 champion Akeila and runner-up Larissa Wiltshire, were down to  play their first matches last night.
In the other category D match, Phang defeated Travis Whitehead in straight games while Lydia Alphonso triumphed over Rebecca Lowe in four games in the lone category E matchup.
Anthony Islam defeated Zach Persaud 2-0, while Sarah Lewis overcame John Phang and Maya Collins edged Daniel Islam in the category F encounters.
The tournament which was organized by the Guyana Squash Association (GSA) in collaboration with its number corporate sponsor Digicel Guyana, will continue each night beginning at 18:00hrs on weeknights at the Georgetown Club. Games will commence at 10:00hrs on Saturday and the Kool-Aid Junior Easter tournament will conclude on Sunday afternoon.
Tuesday's results
Category D
Matthew Phang defeated Travis Whitehead 11/3, 11/5, 11/4
Shomari Wiltshire defeated Mahendra Khusial 11/9, 12/10, 11/3, 11/7
Category E
Lydia Alphonso defeated Rebecca Lowe 11/6, 12/13, 6/11, 11/5
11/6, 13/11, 6/11, 11/5
Category F
Anthony Islam defeated Zach Persaud 11/7, 11/7
Sarah Lewis defeated John Phang 11/9, 11/3
Maya Collins defeated Daniel Islam 11/9 12/10