KEY BISCAYNE, Florida,  (Reuters) – World number one Victoria Azarenka's 26-match winning streak finally came to an end on Wednesday with a 6-3 6-3 defeat to France's Marion Bartoli at the Sony Ericsson Open.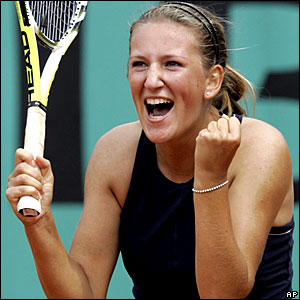 Seventh-seed Bartoli moves into the semi-finals where she will face Poland's Agnieszka Radwanska, who beat Venus Williams 6-4 6-1.
Azarenka's winning streak was the best start to a WTA Tour season since Martina Hingis won 37 in a row in 1997.The Belarusian's impressive run included wins in her last four tournaments, Sydney, the Australian Open, Doha and Indian Wells, but it was clear the run had taken a toll. Bartoli played with aggression and confidence from the outset to take the game to Azarenka, who appeared short of inspiration and heavy on her feet.
"Physically I was just not able to do anything today. It was just not possible. You know, I'm a human, not a super woman. I wish I could be but I'm not," she said.
"But Marion really played really well today, and she deserves the win. What else can I say?"