By Emmerson Campbell
The Cliff Anderson Sports Hall (CASH) will come alive tonight when the Guyana Boxing Board of Control (GBBC) presents the 21st edition of the Guyana Fight Night Pro Am card.
The card which will comprise four amateur and four professional bouts will be headlined by super bantamweight Mandessa Moses and heavyweight Pauline London in a six-round catch weight bout.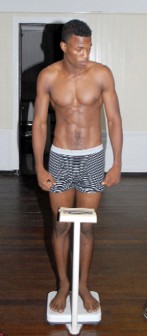 The main supporting and the most anticipated bout will be between WBC Caribbean Boxing Federation (CABOFE) welterweight champion Simeon 'Candy Man' Hardy and Mark Austin in an eight-round catch weight contest.
The co-headliner will be the culmination of weeks of verbal jabs by Hardy and Austin some of which were thrown as recently as yesterday during the customary press briefing which was held at the NCN studios.
The 'Candy Man', who is never short of words, reiterated his intent to knock out Austin with his patented 'chin check' punch and "put him to bed early" while simultaneously placing him on his 'pillow list', (a list of boxers he has put to sleep on the canvas).
Though Austin stopped short of predicting a knockout, he did promise his fans a victory and boasted that he has the 'Iron chin'.
Hardy, 24, is undefeated in his seven-fight professional career with only one of those bouts going the distance. All six of his knockout victims failed the 'chin check test'. Most notable was Patrick Boston, who failed his test just 20 seconds into round one in Hardy's debut bout in October 2010.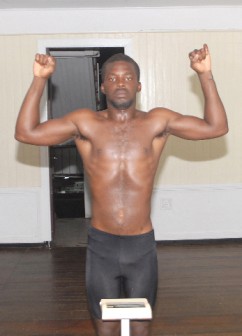 However Austin, 23, is battle tested with 11 fights, winning seven of them and has more ring experience than Hardy and promised to use his experience to his advantage.
Both Hardy and Austin weighed in at 149 pounds last night at the weigh in ceremony which was held at the Water Chris Hotel.
Will Austin fail the 'chin check' test or will the 'Candy Man' suffer his first bitter defeat? That question will be answered tonight.
The card will also feature another WBC CABOFE champion, middleweight Edmond 'Wonder Boy' DeClou. DeClou will face Berbician pugilist Kelsie George.
The bout between DeClou, who is managed by Dog Pound Inc. and George, will be a six-round catch weight affair.
Also on the professional segment of the card will be a six-round rematch between featherweights Rudolph Fraser and Barbadian Gardel Roberts. Fraser won the first encounter last year February by a unanimous decision.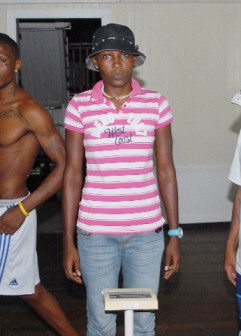 The amateur card will be headlined by middleweights Romeo Norville and Ron Smith while Norville's sister Ansilla Norville will come up against Keisha Arokium in a junior flyweight contest.
Brothers Richard and Joel Williamson of the Pocket Rocket Boxing Gym in Berbice are also on the card.
Richard will have a rematch with fellow Ronald Wilson Memorial Games silver medalist Dellon Charles in their bantamweight bout while Joel will match gloves with Shawn Michael in the 105 to 109–pound division.
Richard defeated Charles in their first encounter two to one.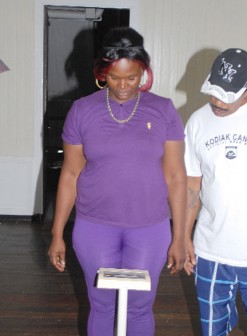 The monthly card is an initiative of the GBBC in collaboration with the Sports Ministry and the National Communications Network (NCN).
Admission is $1,000 while children will be asked to pay half price.  Bell time is 20:00 hrs.
Around the Web