Cellphone Giants Digicel yesterday renewed its commitment to the Norman Singh Memorial Turf Club by sponsoring the four-year horses race of tomorrow's Jumbo Jet meeting at the club's racetrack.
Organising Secretary, Compton Sancho, said that nine races are scheduled  for the day and more than 100 horses from stables across the country will compete. There is also expected to be an number of overseas participation.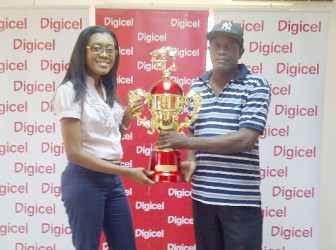 "I am very thankful to Digicel for coming on board and sponsoring the four year event and we are looking forward to their continued support," said Sancho.
The winner, Sancho said, will take home the $500,000 cash prize and Digicel Trophy. The competition carries a total prize money of $10 million.
Digicel's Public Relations Officer, Shonnet Moore said that the company was delighted to be partnering the Norman Singh Memorial Turf Club once again.
"This is our first meet for the year that we are sponsoring, but of course we intend to sponsor other meets throughout the year," said Moore.
She added that since the launching of the company, it has always had a profound interest in horse racing.
"Out of that our Digicel Classic was born and that is scheduled for July, but we are looking forward to sponsoring other meets," she declared.
Sancho said that the first meet starts at 1pm and, according to him, each event is expected to be very competitive. This, Sancho said, is the first race meet on the East Coast for the year.
Around the Web